Posted by
Ben Golliver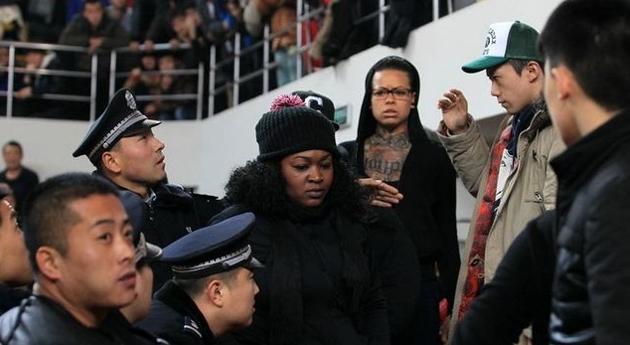 J.R. Smith's sister and girlfriend reportedly got into another brouhaha in China.
(Deadspin.com)
Someone get the embassy on the phone, we've got another international incident on our hands.
History has reportedly repeated itself just weeks after former NBA player J.R. Smith's sister got into a fight with fans in China during one of Smith's games
back in early January
.
Deadspin.com reports
that this time Smith's sister and girlfriend were involved in another in-game melee while Smith continues to play for the Zhejiang Golden
Bulls
of the Chinese Basketball Association.
I can't speak for the state of Sino-American talocrural relations, but I can report that Smith's sister and girlfriend are once again implicated in a fight that broke out last night during a game between J.R.'s Zhejiang squad and the host Tianjin. According to Chinese news sources, conflict erupted after Tianjin fans heckled J.R. Smith as he went to the line late in the third quarter. After what I believe to be Thunderstix were thrown onto the court by a spectator, Smith's girlfriend got into a shoving match with Tianjin fans while his sister flipped the crowd the double-bird.


Stephanie Smith claims on her Twitter that she didn't start the fight "this time," and we can understand her description of the incident being different from Chinese sources that describe her as "a ton of bricks." We invite her side of the story—and of the previous incident, if she wants to share.
Smith signed a deal with Zhejiang that did not include an opt-out clause
back in September
during the lockout. In November, he suffered a knee injury and the club's general manager told the Chinese media that he was
faking the injury
.
Smith, 26, is a talented and troubled score-first guard who will be eligible for an NBA return upon the completion of the Chinese Basketball Association's regular season. He averaged 12.3 points, 4.1 rebounds, 2.2 assists and 1.2 steals in 24.9 minutes per game for the
Nuggets
last year. He will be an unrestricted free agent.