Posted by Royce Young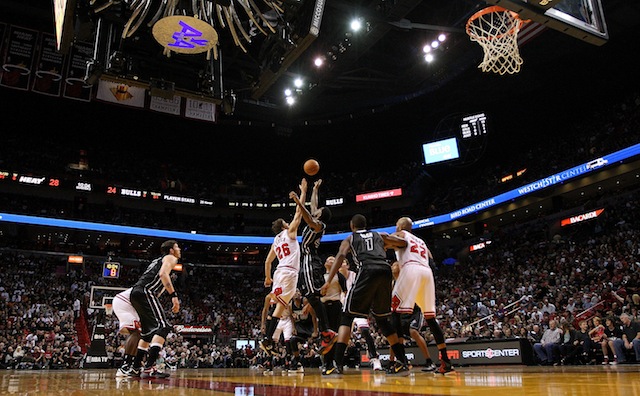 Round one went to the Heat, but not much separates Miami and Chicago.
(Getty Images)
For the first time since Game 5 of the Eastern Confernce Finals where the Heat put together a massive comeback -- or the
Bulls
choked away a big lead, depending on perspective -- the Bulls and Heat matched up Sunday in Miami. It went as expected, down to the wire, with a couple key possessions decided it as Miami slid by, 97-93.
It was a game that will be played three more times during the regular season and likely one we'll see four, five, six or maybe seven more times in the postseason. It's one of what will be many more, but here are five big things to take away from the first matchup.
1. The final minute was pretty much perfect
. Why? Because it was a total mess. Or as
Kevin Garnett
might say, a bar fight. The Bulls clawed back to finally have a shot at their first lead of the game as
Derrick Rose
stepped to the line with Chicago down 94-93 with 22 seconds left. Of note: Rose was 12-12 from the line to that point and had made all 28 free throws he'd attempted in the fourth quarter this season. He missed the first short. He missed the second long. The Heat gained possession and
Joakim Noah
was forced to foul
LeBron James
.
So it was LeBron's turn to finish the game at the line. He missed the first short. He missed the second long.
And that's when things started to get weird.
Off the second miss, there was an inadvertant whistle as
Dwyane Wade
saved the ball and Miami appeared to regain possession. The officials decided to jump it up at mid-court, but Monty McCutchen's toss was incredibly lopsided as LeBron easily won it against
Taj Gibson
. The Bulls fouled,
Mario Chalmers
stepped to the line with 13 seconds left. He made the first, missed the second and the ball somehow squirted through
Carlos Boozer
's arms as he called timeout. Rose grabbed it, got the timeout called and the Bulls, after all of that, had the ball with nine seconds left and a chance to tie it or win.
Rose got free and had a decent look for 2 as
Richard Hamilton
stood wide open in the corner. Rose came up short, the Heat grabbed the ball and finished off the Bulls in a completely fitting finish to a wild, entertaining game between the East's top two teams.
2. LeBron v. Rose
. Both were absolutely spectacular. Rose finished with 34, LeBron 35. It was a show of two of the most electric players with the ball in their hands. Everything you'd want from a Heat-Bulls game.
The Heat didn't use LeBron on Rose much in the game like they did in the Eastern Finals, but LeBron did switch to Rose one time -- the Bulls final possession. Rose was terrific despite missing the free throws and 17 of his 28 shots, but he did it abusing Mario Chalmers and
Norris Cole
. With the Bulls in a position to win or tie, LeBron switched to Rose.
Chicago ran a quick little set that got the ball to Rose isolated at the top of the key on LeBron. Rose got an on-ball screen, slipped past LeBron and jumpstopped at an elbow. Two Heat defenders stepped up,
Udonis Haslem
flopped to try and draw a charge and Rose was left with an open 15-footer. Which of course he missed.
But for the first 47:51 of the game, the Heat resisted having LeBron guard Rose, like he did so much of in the Eastern Finals. I couldn't help but wonder if it was an intentional switch to try and keep LeBron off of Rose and let the Heat defend the reiging MVP collectively, but it's almost like Erik Spoelstra was saving it as his secret weapon, just in case. As the two teams go forward against each other, it's definitely something to watch for.
3. Rose still has to do too much
. There's a key difference between the Bulls and Heat: Rose defers to Richard Hamilton,
Kyle Korver
, Carlos Boozer and
Ronnie Brewer
. LeBron defers to Dwyane Wade and
Chris Bosh
. A crucial distinction.
The Bulls are mostly in a position where either they have to kill the offensive glass and create multiple shot possessions or play incredible defense and win an ugly 80-78 game. Or hope that Rose plays an entirely flawless game.
The good news for Chicago is that all three of those things are entirely possible. The Bulls did a great job creating second opportunities, played solid defense and Rose was really good. But still, they didn't get enough of all three. I'm not so sure the Heat are all that much better than the Bulls, but I do think Chicago's margin for error is much smaller.
4. Luol Deng matters, a lot
. Forgotten in all of this is Chicago's second best player didn't play. Luol Deng, a guy that gives the Bulls almost 16 points and 7.5 rebounds a game was out with a wrist and hand injury. Not only did the Bulls miss the extra offensive punch Deng gives, but they missed most his defensive ability.
Deng would've been the primary defender on LeBron, but instead Chicago was forced to rotate guys like Ronnie Brewer, Rip Hamilton and big guys like Taj Gibson and Joakim Noah on him. Not ideal for the Bulls and it's a big reason LeBron exploded for 35 points. You can't take something away from this game without remembering that the Bulls were minus Deng. He means way too much to them, especially for the reason he's their guy to stick on No. 6.
5. A seven-game series between these two would be terrific
. I'm not entirely sure who the favorite would be, but if this game is any indication, it will likely come down to either Derrick Rose carrying his Bulls, or a combination of LeBron and Wade doing the same for Miami. It's a wonderful contrast between a top heavy squad with three amazing players against a deep roster headed by one incredible player.
Sunday, Wade wasn't great scoring 15 points on 4-16 shooting, but that's the design of the Heat. One guy didn't get it done, so another stepped up. In this case, it was LeBron and Chris Bosh (24 points, 12 rebounds). Bosh is a linchpin in that when Deng is healthy, the Bulls really can defend the Heat well. There likely will be games where Wade and LeBron are struggling and Bosh has to outclass Boozer inside to give Miami easy points.
There's a lot of stuff going on between these two teams. A lot of matchup issues, adjustments and big players making big plays. They're on a crash course to see each other again in the Eastern Finals and as Sunday showed, it'll likely be a beautiful mess.