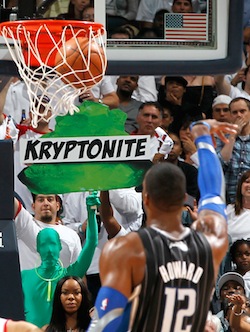 Howard has had about enough of his teammates in Orlando.
(Getty Images)
Posted by Royce Young
Like a burrito stuffed way too full, the Orlando
Magic
are falling apart. After starting the season well at 11-4, the Magic were embarrassed by the
Celtics
last week when they scored only 56 points.
Then they beat the
Pacers
, which was nice, but lost again to Boston Thursday, blowing a 27-point lead. But things hit an all-time low Friday with a 26-point loss to the
Hornets
-- a not good team -- in which Orlando scored only 67 points.
After the game,
Dwight Howard
unleashed on his teammates.
Via the Orlando Sentinel
:
"Looked like guys didn't want to play," he said. "I told them at halftime, if you don't want to play, just stay in the lockerroom. It doesn't make sense for a teams we should beat to just demolish us.


"You bring everything down," Howard said, referring to a player who isn't playing with heart and soul.

"It hurts me to get out there and play your hardest. I expect everybody to play the same. I'm not calling anybody out by no means because we all have to get better … but if you don't want to be out there, don't dress up.

"If you don't want to play, stay home. People work too hard. I want to win a championship. I work too hard every night for anybody to not want to go out there and play hard. … None of the — whatever, trade stuff — none of that stuff matters. Play basketball. That's why we all get paid to do this, because we love the game and it's basketball, so why not give it your all."
You could make the case that Howard was the only player that brought anything for Orlando Friday as he scored 28 of the Magic's 67 and grabbed 16 rebounds. After that, Orlando didn't have a single player in double-figures and went 15-47. Other than Howard, the Magic were awful. And not against just any team. Against a Hornets squad that had lost nine straight and was 3-15 coming into last night's game.
Howard wasn't finished ripping his team though.
"The team we played tonight, they've been playing hard all season. They just haven't won. And then they played hard tonight and they killed us. They killed us because they just played hard and they wanted it. Everybody on that team wanted to win tonight. That's the only thing that matters," he said.

"We are winning. You can't just go out every night and expect a team to just fold because you're winning, because you're having a good record."
Howard's frustrations ring extra loud with his pending free agency on the horizon. He clearly has had just about all he can take of not having help. When he gets supplementary scoring from
J.J. Redick
,
Ryan Anderson
and
Jason Richardson
, the Magic are a really tough team. They look like an Eastern contender. But when it's Dwight and nobody else, the Magic aren't a good team. Not even a player of Howard's caliber can carry them.
These aren't the words you want to hear if you're GM Otis Smith or a Magic fan, but Howard's frustrations are boiling over. Things were looking up for Orlando for a while, but this past week has been a low point. It can either completely unravel, or it can just be a bump in the road. Howard is trying to get his team's attention and while the media might not be the best place to do it, he's just had enough. He wants to win. Plain and simple.