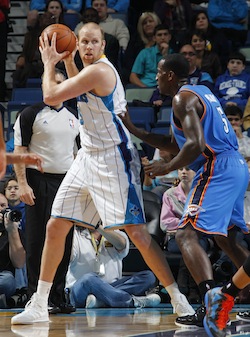 Kaman has been made inactive for the Hornets.
(Getty Images)
Posted by Royce Young
Chris Kaman
was never going to be a part of the New Orleans Hornets' long-term future after he was acquired in the
Chris Paul
trade. With a big expiring contract and some quality ability left in him, he was always seen as a trade piece for the Hornets to flip for more assets or a young player.
And according to ESPN.com
, that's exactly what the Hornets are "actively" looking to do. The team has made Kaman inactive for the time being, started with last Wednesday's game against Oklahoma City, publicly saying that it's to let younger players play. But the real reason is because the Hornets want to find a trade partner for him and don't want to risk injury.
Hornets general manager Dell Demps released this statement Friday night:
"We had a conversation with Chris and expressed that the Hornets are going to go in a different direction. We mutually decided for a number of reasons that we are not going to play Chris as we pursue a trade. Chris has been the ultimate professional during this process and we thank him for the way he has handled the situation."
The report says that nothing is even close to being done for the time being, but Kaman will likely stay inactive until a trade is completed.
"It's just something (where) we want to play our young guys and we certainly don't want to disrespect Chris at all," Hornets coach Monty Williams told reporters before Friday night's game against the
Magic
.
"This is something we want to keep internally. It's certainly not disciplinary and he understands and I talked to him. We're going to play Jason Smith, Gustavo Ayon and Al-Farouq Aminu. It's just difficult to play that many bigs and I understand how difficult it is for (Kaman) to not get the minutes he wants."
Kaman, 29, is set to make close to $14 million this season, making him an extremely valuable expiring contract as teams try and position for the free agency frenzy of this summer. Plus, the bonus is that he can still play a little.
Playing the younger guys, while an excuse, also is a good thing for the Hornets. Not only is getting much-needed experience for guys like Ayon and Jason Smith wise, but it also means the Hornets have a better chance of, well, losing. Which is honestly what they need to do right now to ensure a high lottery pick.
A contender could target Kaman to bring in for some big man depth, but teams that are looking for cap space will also likely be players for him. But remember, before anything gets done, it has to pass a potential veto from David Stern. So better make it a good trade, Dell Demps.