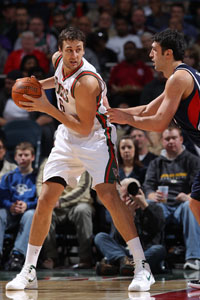 Bogut will miss most of the rest of the season with an ankle injury.
(Getty Images)
Posted by Royce Young
Andrew Bogut
can't catch a break. Bad choice of words. But you know what I mean.
The
Bucks
announced Friday that Bogut suffered a left ankle fracture that will sideline him for 8-12 weeks. Which is essentially the rest of Milwaukee's season. If he were to return on the optimistic side of that, he's be back in late March.
Bogut was injured in Wednesday night's win at Houston (January 25) when his left foot landed awkwardly on a
Rockets
player's foot after attempting to block a shot in the first period. In 12 games this season, Bogut averaged 11.3 points, a team-high 8.3 rebounds, 2.6 assists, 1.0 steal and a team-high 2.0 blocked shots in 30.0 minutes per contest.
Basically, the Bucks are in big trouble without their big man. Last season, Bogut had to try and overcome a horrific elbow injury that happened late in 2010. As a result, the Bucks weren't anywhere as good as they should've been.
And with the bottom of the East up for grabs, Bogut could've really helped Milwaukee get in position to make a strong playoff run. But now without him, they are going to be on the fringes.
Rookie
Jon Leuer
will get a lot of time as well as
Drew Gooden
, but there's no way you can replace a player as skilled defensively and offensively as Bogut. He was just now kind of recovering completely from the elbow thing and now his ankle gets broken. Bogut has been pretty unlucky these past few seasons and by extension, so have the Bucks.