Posted by EOB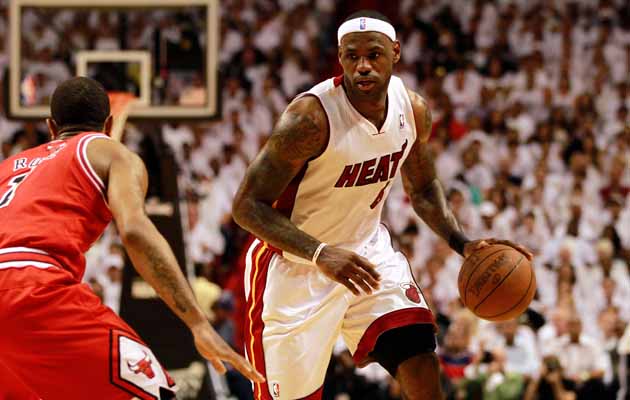 LeBron matched against Rose could be the most interesting matchup in Bulls-Heat. (Getty Images)
3-on-2 Fast Break is a weekly feature here on Eye on Basketball where our intrepid bloggers tackle two questions, comparing two elements. This week, we focus on Sunday's showdown between the Chicago Bulls and Miami Heat. Follow Eye on Basketball on Twitter and like us on Facebook.
1. Heat-Bulls on Sunday, and Luol Deng wants to try and play. Considering the long-term goals of the Bulls, shouldn't they at least not rush him back into a game versus, you know, LeBron James?
Ben Golliver
: I'm not going to play doctor, but I'm in the "better safe than sorry" crowd this season, especially as we've seen other coaches use extra caution in sitting their players and/or extending the timelines until they return. The Bulls are in a position, given their record and their talent base, where this isn't anything approaching a must-win. Follow the trainer's advice, don't push it and exercise an extra measure of caution. There are no statement games in late-January this season. This should be a relatively simply risk/reward calculation.
Royce Young
: If you're healthy and CAN play, I say you play. It's one game and it really doesn't mean a lot in the grand scheme, but as long as you're not risking long-term damage or something, go for it. It's the type of thing where if Deng re-injures it playing 46 minutes against the Heat, everyone will blame Thibodeau for rushing things back. But these guys want to play, especially in marquee games like that. How are you really going to tell Deng to take it easy if he's ready and willing to go?
Matt Moore
: Deng's toughness is admirable. But the Bulls have a goal of a championship and there's no reason to throw out Deng against one of the most physical covers in the league just to try and win a regular season game. It may make them feel better to get a win against the Heat after the kick in the pants Miami gave them in the Conference Finals, but not if it winds up keeping Deng out longer. The shortened schedule is already forcing them to play
Derrick Rose
with that toe injury which sounds like it hurts like all get out, and they may or may not be short
Taj Gibson
. Finally the Heat aren't the team with injury issues.
2. What's the matchup to keep an eye on?
Golliver
:
Eddy Curry
continuing his revenge tour against his old teams, of course. I'm expecting double-doubles against both New York on Friday and Chicago on Sunday and I'm not talking about In-and-Out Burgers. But, really, Rose versus the Heat's defense is the match-up. He left the Eastern Conference Finals with a taste in his mouth and he made it clear this week after the
Pacers
game that he's taking names and making a mental list of those who slight him. How that plays out after LeBron James decided the East Finals by locking him up will be must-see TV.
Young
: Derrick Rose vs. LeBron James. That defensive switch really made all the difference in the playoff series last year. LeBron completely shut down Rose's ability to penetrate and because of his size, Rose couldn't even settle for a clean jumper over him. The addition of
Richard Hamilton
is supposed to help with taking a little of the stress off Rose in those circumstances, but this game will come down to the stars making plays. Will it be LeBron or Rose? Unfortunately for Rose, he's going to have to do it with big No. 6 in front of him.
Moore
:
Carlos Boozer
vs.
Chris Bosh
. Bosh shocked some people by coming through huge for the Heat in this series, and he's off to an even better start this year. He's figured out where to fit in the Miami offense and he's been more aggressive for once. Boozer's Boozer. He's going to get his but how he plays defensively will be a bit more important. The Bulls can't afford for two of the Big 3 to get going. Wade may be shaky coming back from injury, and who knows how LeBron James will respond in a big game like this after the last six months. But if Bosh gets it going, that's going to create havoc for Chicago, especially with Taj Gibson possibly out or not at 100 percent.