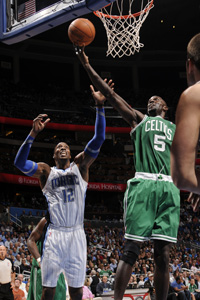 Howard is an unrestrictred free agent in the summer of 2012.
(Getty Images)
By Matt Moore
The circumstances were pretty complex Thursday night. The Orlando
Magic
blew a 27-point lead, at home, to the Boston
Celtics
,
who had come up as a new possible landing place
for
Dwight Howard
. So while one regular season win or loss is not going to sway Howard one way or the other, it's definitely not the message you want to send if you're Orlando trying to keep the most dominant center in the league playing in your laundry. Especially when afterwards he says things like this, from the
Orlando Sentinel
:
Howard intimated that teammates didn't stick to their roles Thursday night's loss to Boston.

"We didn't play the right way and we have to change," he said."Everybody just can't come down the floor and feel like they have to take the game over. You just have to play team-ball and play the way we want to play. We didn't do that."

Howard included himself in the meltdown inwhich the Magic lost a 27-point lead.
via
Dwight Howard calls out teammates to "change" – Orlando Magic BasketBlog – Orlando Sentinel
.
This isn't anything new. Howard, like a lot of stars, is often critical of his team after a particularly bad loss. It just doesn't come at a great time with his impending free agency hanging over the Magic, just hours after he told reporters he'd answer a call from the Celtics about acquiring him.
Howard has told reporters in the past that not having his input weighted more heavily by the front office is part of his decision to ask for a trade. When Howard says the Magic have to "change," he probably has some ideas about how that change should occur. The Magic's fate with regards to Howard has been sealed for months. But Thursday night certainly didn't help.