Posted by Ben Golliver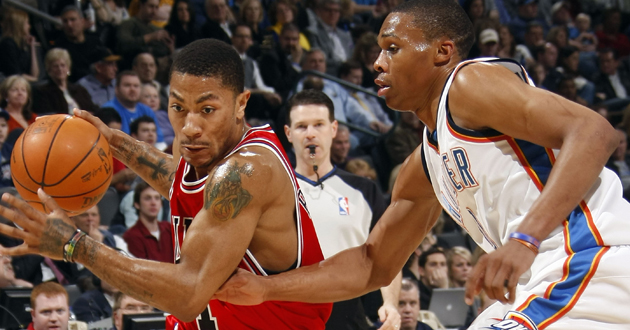 The deadline for teams to sign extensions with 2008 NBA Draft picks passed at midnight on Wednesday. Only a handful of deals were reached, with a number of fairly big names left to head towards restricted free agency next summer. Let's take a look at the major deals and non-deals one-by-one.
Derrick Rose signs 5-year, $94 million extension with Chicago Bulls
This year's largest deal was handed out to the class's No. 1 overall pick and it was an absolute no-brainer, a long-term commitment that binds hometown star and league MVP Derrick Rose to the Bulls for the next half-decade. With the Eastern Conference-leading Bulls clearly in the middle of what should be a lengthy championship window and with Rose more than comfortable both on and off the court in Chi-town, this deal amounted to calculating the highest legal financial offer and delivering it as quickly as possible. That Rose elected not to demand a player option on the deal's final year is a nice bonus for Chicago, who will be paying a premium to their 2-time All-Star under the terms of the new collective bargaining agreement. Rose will almost certainly be a Bull for the next decade but it's comforting to know that there won't be any distracting sideshows and rumors for years to come.

Rose wins; Bulls win
Russell Westbrook signs 5-year, $80 million extension with the Oklahoma City Thunder
Westbrook, the No. 4 overall pick, was really just Rose-light. The 2011 All-Star and All-NBA second team performer commanded every penny available to him under a standard max extension, and the fact that he reportedly passed on the potential for some extra dollars under the new CBA while also passing on requesting a player option means this deal couldn't be sweeter for the Thunder. Their second All-Star piece is now cast in long-term, locked-in stone next to Kevin Durant, and the deal left OKC with as much flexibility as possible going forward even if the books are now necessarily tight with two max players in place. Even Westbrook's biggest critics – those who question his personality, turnovers, mentality and shot selection – realize that he still represents an extraordinary value, even at $16 million a year. Need convincing? Imagine how different the NBA would be if Miami or Memphis had selected him at No. 2 or No. 3. Or, imagine if the Thunder had opted for one of the Draft's other top point guard prospects, D.J. Augustin or Jerryd Bayless.

Westbrook wins; Thunder win
Kevin Love signs 4-year, $62 million extension with early termination option with the Minnesota Timberwolves
This is a classic case of a good idea in theory being far, far less valuable than a good idea in practice. Love, the No. 5 overall pick, has been leaps and bounds better than every other big man in this class and is already in the "power forward in basketball" discussion. A ridiculously productive and consistent rebounder, Love has improved his offensive game, extended his range, overhauled his body and stuck with a team that went through a toxic stretch under former coach Kurt Rambis. He's a franchise guy, period. He's in the same "no-brainer" category as Rose and Westbrook.
The problem facing Minnesota, that differentiates them from Chicago and Oklahoma City, is that they face multiple potential top-tier future stars in Ricky Rubio and Derrick Williams who could request a 5-year extension after they complete their rookie deals. The idea here was to avoid offering a 5-year deal to Love using the new "designated player" tag so that it could be saved for later use. That flexibility would have some value to the Timberwolves, assuming Love was on board with the concept. It's a good idea in theory: superstar sacrifices one year of a contract to help his franchise keep his future star teammates happy.
In practice, it didn't work out quite like that. In exchange for agreeing to a deal shorter than five years, Love requested and received an early termination option on the last year of his 4-year agreement. That will create endless speculation and questions about his future and every franchise misstep over the next two to three years will be looked at under the prism of, "Will that make Love want to leave?" LeBron James and Chris Bosh both left their original teams after signing similar deals.
There was value to be had in flexibility and it could have been a coup if Love had jumped on board with the idea. But he simply didn't see it that way. Instead, he stressed Wednesday that he was ready to commit for five years and the team wasn't, making it clear where the responsibility lies in the future if the player/team relationship goes south, or, in a worst case scenario, if the relationship ends in a trade demand or a departure to a different market in free agency. Sure, he can always make up the money on the next deal. But star players, like everyone else in the world, prefer up-front certainty to future promises. They certainly prefer to be valued rather than leveraged.
Weighing all the available risks should have led to a simple conclusion: securing Love for as long as possible as quickly as possible, to ensure good will and a rock-solid future, was the best way to continue the team's recent positive momentum and the most expedient method for reducing outside noise. Maxing out Love would also have sent a message to Rubio and Williams that this was an organization that properly valued and rewarded its stars. Future flexibility is a great idea; two extra locked in years of Love would have been a much, much better reality.

Love loses; Timberwolves lose
Danilo Gallinari signs 4-year, $42 extension with the Denver Nuggets
This deal will go under the radar because it seems like the Nuggets, currently the West's No. 2 seed, always go under the radar and because Gallinari, the No. 6 pick in his class, is somehow still his class's most underrated player. Denver gets a well-rounded, good-natured player, who produces at an elite efficiency level and is putting up career-highs across the board. Gallinari pairs nicely with Denver's point guard of the present and future, Ty Lawson, and will deliver value on his salary as long as he is able to keep his back problems in the rearview mirror. Denver is the only team ranked in the top-4 in either conference without a sure-fire All-Star but his salary number isn't so large that it boxes the Nuggets into a corner down the road. The Nene/Gallinari/Afflalo/Lawson quartet should be the solid base of an above-average team for the life of Gallinari's deal. Why not get this done with now?

Gallinari wins; Nuggets win
Kosta Koufos signs 3-year, $9 million extension with a team option with the Denver Nuggets
Another piece to Denver's puzzle, albeit a minor one, is Koufos, the No. 23 pick originally taken by the Utah Jazz. Koufos is Denver's fifth big man and his career ceiling is probably as a fourth big man, at best. Finding reserve bigs can be a chore and the churn involved in locating and holding the right skillset to complement the frontline players isn't as easy as it seems. Denver locks up Koufos at a small cap number and holds flexibility in the last year if they end up wanting to go a different direction. The 7-footer, meanwhile, knows he's getting at least 6 million no matter what over the next two years, not bad for someone who has never played more than 50 games in a season or more than 11 minutes per game. This is really just a footnote deal, but it's another sign of effective, well-intentioned management by Nuggets GM Masai Ujiri, who pro-actively resolved multiples questions for his club at thisextension deadline and can now focus his energy elsewhere at the trade deadline and next summer.

Koufos wins; Nuggets win
New Orleans Hornets do not sign Eric Gordon to an extension
Conventional wisdom dictated that a league-owned team that technically didn't need to agree to an 8-figure per year extension to Gordon, the No. 7 pick who is currently out for an extended period of time with a knee injury, wouldn't get it done. That's exactly what happened. An offer was reportedly made to Gordon and rejected, leaving his future up in the air until next summer, when he will become a restricted free agent. Gordon's value as a second-tier player in his class is clear. He's likely headed for the type of deal given to Al Horford and Joakim Noah, and there's a possibility someone reaches in free agency to throw him something even closer to a max, which his injury history and overall production levels don't quite warrant. Regardless of where the numbers eventually come in, as the only star on an endlessly sinking ship, Gordon will be a scorching hot commodity. It's well past time the Hornets got sold to a new owner so they can get on with the business of being a real basketball franchise.

Gordon wins; Hornets lose
Portland Trail Blazers do not sign Nicolas Batum to an extension
The up and down Blazers don't know whether they are coming or going. Are they a fringe contender or is it time for a rebuild? The team's front office readily admits that, in lieu of making that determination, they will procrastinate until next summer when contracts will be up for Raymond Felton and Marcus Camby, player options could be exercised by Jamal Crawford and Gerald Wallace, and a decision on the future of Greg Oden will need to be made. A casualty of all of this uncertainty is Batum, the No. 25 pick in 2008, who has seen his playing time cut this year in favor of Wallace this season despite hearing for months how the team considers him an important piece of its future.
A promising two-way player who can shoot the three well and defend multiple positions, a strong argument could be made that the Blazers should have went all out to reach an extension. His price will likely go up in the summer, the Blazers only have two definitive pieces locked in for the future (LaMarcus Aldridge and Wesley Matthews) and Batum's price should have been fairly clearly set by comparable players like Trevor Ariza and Marvin Williams. It's difficult to imagine that Batum, who has expressed his desire repeatedly to stay in Portland, was looking to break the bank. His play in limited minutes this season has been uneven and he's admitted the contract situation has been a distraction. Had there been a fair offer it seems more than reasonable to assume that he would have taken it. Instead, he waits, and watches Wallace play the starter's minutes. That's got to be excruciating and frustrating.
Failing to reach an extension isn't a crisis for the Blazers, who continue to say they want to retain him long-term, but it extends the uncertainty when a little stability is needed. Portland remains stuck in the mud, spinning its wheels and still without a full-time GM. How much extra money will the "We can always handle this later" mentality cost them come summer time? How many other roster decisions will be impacted? It's those difficult-to-quantify questions that the Nuggets avoided in inking Gallinari.

Batum loses; Blazers lose
Orlando Magic do not sign Ryan Anderson to an extension
Anderson, the No. 21 pick, was far and away this class's steal. He's putting up 16.8 points and 6.9 rebounds per game now that he's starting full-time for the Magic and he's pumping in threes at a 42.2 percent clip. Catching him with an extension just as he is making the upswing would have been an ideal situation, outside any external forces. His is a rising stock. The ground floor was two years ago, when Orlando first acquired him, but the ascent could be quite rapid and expensive from here going forward. Of course, removing external forces is impossible given Orlando's cap situation and center Dwight Howard's expressed desire to be traded. The Magic appear to be in "Hold on tight, let's gun for a championship and see what happens" mode right now, and given how well they've played for stretches this season, you can't really fault them.
From a dollars standpoint, Anderson can't be too broken up about not getting a deal now. Given his big minutes role on a playoff team, he's in the situation Batum wishes he could be in: the spotlight. This will end with a massive pay day, one way or another. After getting picked away from the New Jersey Nets via trade, it's difficult to imagine his future is with anyone but Orlando. The only unknown is how many other moves -- including Howard, most of all -- it takes to make that happen.

Anderson wins; Magic lose