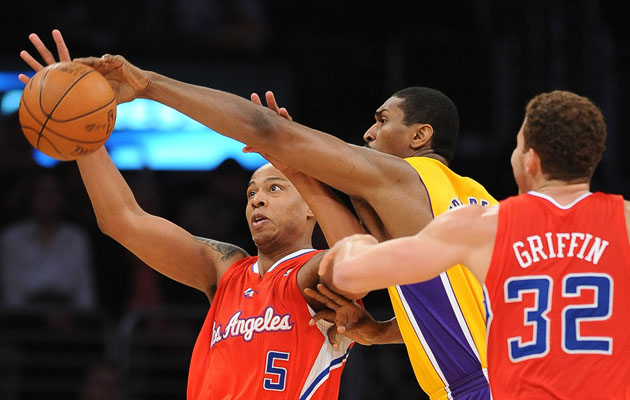 The Lakers shut down the Clippers and in doing so found their model for success this year.
(Getty Images)

By Matt Moore
The Lakers have struggled this season to establish any sort of identity. They look lost often times on both ends. Some of that is a new system, their first in really over a decade (we won't talk about the Rudy T year). Some of that is new personnel, with so many new pieces and the gaping hole where
Lamar Odom
used to be.
But in their rematch win
over the Clippers, they found their model. Even distribution of offense between
Kobe Bryant
,
Pau Gasol
, and Andrew Byum, and emotional swarming defense from the reserves.
Metta World Peace
steps up to deliver key play after key play and the Lakers slogged Lob City into a swampish mode. When the Clippers aren't able to operate in space, their decision-making becomes suspect.
Now, it was still a come-from-behind win over the "little brother" in which the Lakers needed Metta World Peace, who has not played well in two years to come through in the biggest way possible, and a 32-14 free throw advantage, and a series of disastrous decisions from the Clippers (like a late
Blake Griffin
three attempt which he was out of bounds on), and for
Chris Paul
to look extremely rusty in his first game back from injury. But separate from their opponent, it gave the Lakers a sustainable approach.
All season long the Lakers have relied on inconsistent, unsustainable approaches. Kobe Bryant cannot score 40 per game against quality opponents shooting 30 times and have the Lakers winning.
Andrew Bynum
cannot get 25 touches.
Matt Barnes
cannot be the only role player contributor. They have been relying on flawed approaches, yet still winning enough, which shows you the talent on a Lakers team that seemed lost without Lamar Odom. But the Clippers game was different. They knew what they wanted to do, and for the first time this season, they bent their opponent to that will, to that team concept. It was an entirely new type of Lakers win, even if it seemed similar to other slots in the W column.
It was the first time this season that we saw the Lakers' defense as it is supposed to be constructed. This was the idea. Heavey action for Pau Gasol in the post, as Gasol had a monster game. Andrew Bynum dominating with size. Kobe Bryant being Kobe Bryant (he only took 17 shots!). And a defense that forms a wall around the perimeter and attacks the handle aggressively. It's not pretty. It's not Showtime. And it has a long way to go. But that's how the Laker are supposed to play under Mike Brown. That's how it's supposed to go down.
And the result is very much what Lakers fans have come to expect. A win.