Posted by Royce Young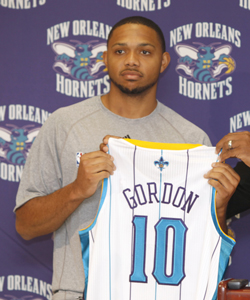 Eric Gordon will be a restricted free agent this summer.
(Getty Images)
The
Hornets
made a pretty big stink about getting back an ample amount of young talent and assets when they dealt
Chris Paul
. The prize piece was guard Eric Gordon, a 23-year-old scorer that could be a franchise cornerstone.
Except the Hornets weren't able to lock him up long-term before the deadline passed for Gordon to sign an extension. According to an AP source, Gordon turned down a four-year extension offer from the Hornets, which means he'll be a restricted free agent this summer.
Financial terms of the Hornets' offer wasn't in the report, but clearly, it wasn't good enough for Gordon and his representatives.
According to another report
, part of the hurdle Gordon had to jump was getting his extension through the commissioner's office. Gordon had said he wanted to re-sign with the Hornets, but obviously wanted to be well taken care of.
It's a very strange situation because the league and Hornets really pushed hard to get Gordon in return and now face the prospect of losing him in free agency this summer. Which was precisely the reason they dealt Chris Paul. Rather than watch a star walk for nothing, they wanted something to show for him. And because Gordon didn't get extended, he could do the exact same thing.
Without knowing the numbers, it's hard to really say who is more to blame in this situation. The Hornets, a struggling small market franchise, can't afford to part with precious cap flexibility and money over a player that's not quite star level. Gordon is a very good player but definitely not a no-brainer max player like
Derrick Rose
,
Russell Westbrook
or
Kevin Love
. He's certainly a great building block piece and potentially has that caliber of talent, but it's yet to be seen. And I'm sure the Hornets' offer reflected that.
Gordon has only appeared in two games this season for the Hornets because of a bruised right knee and coach Monty Williams said Wednesday that Gordon will likely miss three more weeks with the injury.