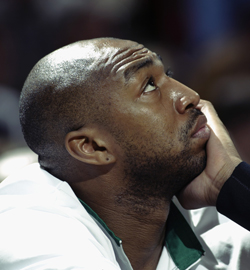 Vin Baker is reportedly suing a financial adviser over millions in losses.
(Getty Images)
Posted by
Ben Golliver
.
Vin Baker's nickname might as well be "cautionary tale."
After making four All-Star games and earning more than $97 million during a 13-year NBA career, it's been nothing but financial hardship since his retirement in 2006.
Baker has owed more than a million dollars in back taxes to Connecticut,
according to NBCConnecticut.com
, he's had foreclosures on multiple properties,
according to CNBC.com
, and now he's reportedly suing his long-time financial adviser for allegedly squandering his fortune.
CourthouseNews.com reports
that the 1993 lottery pick has taken legal action against Brodeur & Co. Certified Public Accountants because he believes the company mismanaged his finances between 1997 and 2009.
Retired NBA All-Star Vincent Baker claims his financial adviser lost nearly all of his $86 million nest egg through negligent investments.

Baker says: "During the time that Brodeur and B&C acted as Baker's manager, virtually all of Baker's earnings were spent and/or his investments lost all or nearly all of their value, such that Baker's home was foreclosed and he was forced to liquidate substantial assets for little or no value, leaving him without resources to meet his financial obligations and living expenses."

Baker claims that Brodeur and his firm breached their duties to him "through inadequate oversight and/or failure to implement systems to track sources of money and discourage fraud ... inadequate accounting ... inadequate reporting ... mismanaging Baker's assets, upon information and belief, through commingling of funds and the use of personal credit cards ... by mismanaging Baker's assets, upon information and belief, through transactions with Brodeur and B&C's manager's friends and family; and ... through transactions with Brodeur and B&C's managers, affiliates, business associated, and like entities."
Courant.com reports
that Baker admitted to problems with alcohol abuse in a 2010 interview. He was
arrested on DUI charges
in 2007.
Baker, now 40, averaged 15.0 points and 7.4 rebounds per game during a career that included stops with the Milwaukee
Bucks
, Seattle SuperSonics, Boston
Celtics
, New York
Knicks
, Houston
Rockets
and Los Angeles
Clippers
.
Hat tip: ProBasketballTalk