Posted by
Ben Golliver
.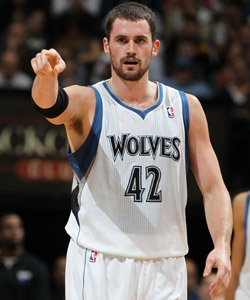 Kevin Love reportedly agrees to a contract extension.
(Getty Images)
The Minnesota
Timberwolves
are reportedly closing in on their man, and at the price they wanted.
Twincities.com reports
that the Timberwolves have agreed to terms on a 4-year contract extension with All-Star forward Kevin Love worth $62 million.
Minnesota Timberwolves All-Star forward Kevin Love has agreed to a four-year, $62 million contract extension and is expected to sign the new deal Wednesday afternoon in Dallas, a person close to the situation told the Pioneer Press.
ESPN.com reports
that the discussions are still "ongoing" and that a final decision will not be made by Love until Wednesday.
"If you read it on the Internet it must be true right?," Love
wrote on Twitter
shortly after the initial report of an agreement broke.
Love has
reportedly sought
a 5-year deal worth closer to $80 million. Wolves president David Kahn
reportedly made
a 4-year offer worth $60 million last week. The two sides face a Wednesday to finalize the agreement.
Love, 23, was the No. 5 pick in the 2008 NBA Draft after spending one season at UCLA. He's generally regarded as one of the league's top-3 rebounders and he was recently named as
one of 20 finalists
for the United States' 2012 Olympics team. He was the NBA's leading rebounder in 2010-2011 with 15.2 per game, earning recognition as the NBA's 2010-2011 Most Improved Player and being named to the 2011 Western Conference All-Star Game.
The Timberwolves' franchise player and double-double machine would join Chicago
Bulls
guard
Derrick Rose
and Oklahoma City
Thunder
guard
Russell Westbrook
as Class of 2008 players to ink extensions. Both Rose and Westbrook signed 5-year deals. Under the new Collective Bargaining Agreement's "designated player" rule, giving a fifth year to Love would prevent the Timberwolves from offering a 5-year deal to rookies
Ricky Rubio
and
Derrick Williams
. Locking up Love for four years while maintaining flexibility going forward would be a coup for the much-maligned Kahn, who has battled charges of incompetency since taking over the Timberwolves' basketball operations in 2009.
Love is averaging 24.9 points, 13.9 rebounds and 1.7 assists in 39.4 minutes per game this season.