Posted by
Ben Golliver
.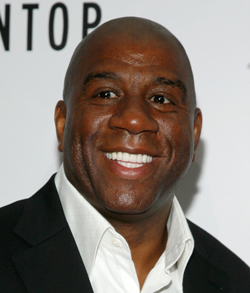 The Lakers legend has reportedly bid on the Dodgers
(Getty Images)
The only thing longer and more boring than the NBA lockout is the ongoing sale of the Los Angeles Dodgers.
Good news: the deadline to submit bids finally passed so we just took a major step closer to the finish line.
The Los Angeles Times reports
that two major figures in professional basketball -- Dallas
Mavericks
owner Mark Cuban and Los Angeles Lakers legend
Magic
Johnson -- were among the "more than 10" bidders.
Outgoing owner Frank McCourt expects the Dodgers to sell for at least $1.5 billion.

Dallas Mavericks owner Mark Cuban submitted a bid by Monday's deadline, as did East Coast hedge fund giant Steven Cohen and former Dodgers owner Peter O'Malley.

Several groups also turned in bids, including those involving Magic Johnson and longtime baseball executive Stan Kasten; Los Angeles developer Rick Caruso and former Dodgers manager Joe Torre; Los Angeles investor Stanley Gold and the family of the late Roy Disney; and former agent Dennis Gilbert and Los Angeles investors Jason Reese and Randy Wooster.
Both Cuban and Johnson have been linked to the Dodgers, a franchise that has gone through financial crisis following the divorce of the McCourts, for months. Cuban's interest
goes back to at least June 2011
although he recently said that he
would not bid $1 billion
for the club.
"At that price, I wasn't interested," Cuban said. "I don't think the Dodgers franchise is worth twice what the [Texas] Rangers are worth."
Johnson's interest in the club
dates to August 2011
.
"If the Dodgers ever came up for sale," Johnson said in August, "Would I take a look at it with some other people? Of course you would look at it. Because the brand is so strong. As we speak today, they do have an owner. It's never good to talk about an organization that already has an owner. I will say this: the Dodgers brand is amazing. The O'Malley family were great owners."
Hat tip: IAmAGM.com
.