Posted by
Royce Young
and
Ben Golliver
.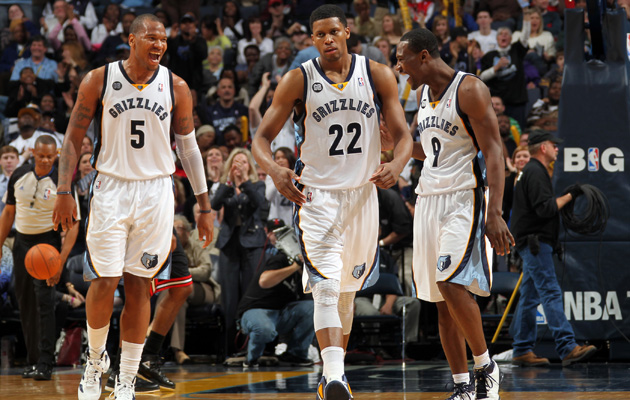 The 2011-2012 NBA season continues. Here's the sixth weekly installment of
CBSSports.com's NBA Power Rankings
by Eye On Basketball's Matt Moore.
What did he get right? What did he get wrong? We're here to break it down and take it down.
1. Too High: Memphis Grizzlies at No. 6.
I was as impressed as anyone by the Grizzlies comeback over the
Warriors
. But not by Memphis. I was impressed at the complete unraveling the Warriors pulled off. Playing that terrible and blowing a 20-point fourth quarter lead isn't easy to do. The Grizzlies have endured injury and have stayed afloat in the West winning seven straight, but without
Zach Randolph
, that team is not six material. Their toughness is nice and it's a good story that they're fighting, but six of those seven wins are against sub .500 teams and the
Bulls
without
Derrick Rose
. So let's pump those brakes. -- RY
2. Too Low: Orlando Magic at No. 10.
Look up the term "recency bias" in an encyclopedia and you will find
this headshot
of Matt Moore accompanying the explanation. Yes, the Magic were historically awful on Monday night but if we've learned one lesson over the last month, it's that there will be the occasional super-ugly shooting night where great teams look terrible. This team has posted exceptional offensive efficiency numbers through the first month of the season; their body of work on that end is beyond reproach. They clocked the
Lakers
, dumped the
Knicks
and handled the
Bobcats
last week too. There's no way there are nine teams in the NBA better than the Magic. -- BG
3. Most Overrated: Toronto Raptors at No. 27.
OK, so they're 27th in the rankings. But that's too high. See, that's the challenge of power rankings. There has to be a hierarchy, when in reality, it might just be better to have five teams tied at 29. Because right now, the
Wizards
are the clear worst team with about five others stacked up right together for the honor of second worst. The Raptors have lost eight straight and look rather hopeless. To give them the credit of saying they are any better than 29, or even 28, is giving them far too much reward. -- RY
4. Most Overlooked: Los Angeles Clippers at No. 11.
The No. 3 seed in the league's premier conference ranks No. 11 out of 30 teams here. That definitely makes sense. Come on, the Clippers are still benefitting from having a home-loaded schedule and a slow ramp up to the season but they were above .500 last week and within a buzzerbeater of going 4-1. They have premier wins over the likes of Los Angeles and Miami and have weathered an extended
Chris Paul
injury better than anyone could have reasonably expected. They could slip as the 10 home games vs. four road games disparity tightens up, but give them some credit now. -- BG
5. Sure Thing: Oklahoma City Thunder at No. 2.
Catastrophic injury or apathy seems to be the only ways OKC will drop from the top-3 spots in the Power Rankings all season. They've won at home and on the road, they've beaten good teams and bad, and they've dominated in conference play.
Russell Westbrook
's contract status is settled. All that's left to do is nitpick the play of the lower rotation players until the playoffs finally arrive. A postseason rematch versus Denver at some point sounds like a mighty appetizing idea, doesn't it? -- BG
6. Wild Card: Houston Rockets at No. 14.
I hate it when people do this, but if the playoffs started today (why would they, it's January?) the Rockets would be the eight-seed. That's right, the Rockets, who everyone thought was terrible and underachieving to start the year. Now that they've moved past a killer start to their schedule, they've won games they should and are two games up on .500. It's hard to know if they're good or if this is just a product of beating teams you should, but the Rockets likely will figure into the Western playoff race down the stretch in some regard. -- RY