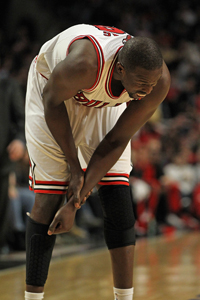 Luol Deng will miss "a couple of weeks" with a torn ligament in his hand.
(Getty Images)
By Matt Moore
The signs were ominous on Monday and on Tuesday word from the
Bulls
came out that it was as bad as feared.
The Chicago Tribune reports
the Bulls announced Tuesday that Deng has a torn ligament in his left hand. At this point, Deng is
planning on not having surgery
, resting the injury in the short-term, then trying to play through it. The Bulls announced that
he is "week to week
" and that he would be
out a "couple weeks."
If that sounds vague, that's because it is. There's no way to tell how the injury will heal without surgery.
The Bulls will miss Deng most out of all their injured players (including MVP
Derrick Rose
and
Taj Gibson
who have both missed time in the past week). He's been an anchor for the team on both sides of the ball. He's one of the premier wing defenders in the league, and has been actually scoring at a ridiculously high clip especially from mid-range this season.
Kobe Bryant
suffered a similar injury, at least in description, and has managed to play through it. He has at times struggled with his shot but also rattled off a string of 40-point game, so it is something that can be treated before games to allow players to play through it. For the short term, however, Deng is out and the Bulls will have to rally. In his absence,
Ronnie Brewer
has stepped up and is shooting 45 percent from the field and 50 percent from 3-point range. The Bulls have rallied past all their other injuries, but you have to wonder if an long-term injury to Deng will slow them down, at least somewhat. Their depth at point guard without Derrick Rose was considerably better than it is at the small forward spot behind Brewer and Deng.