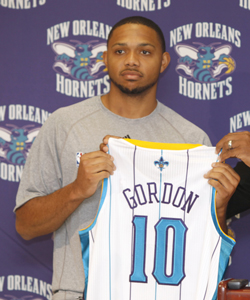 By Matt Moore
The
Hornets
are stuck behind the commissioner. Again. Yahoo Sports reports that
Eric Gordon
is in a position for an extension from the Hornets with the deadline for any deal looming Wednesday afternoo, but that the team has to wait for David Stern to grant permission to offer it.
Gordon's agent, Rob Pelinka, has engaged in recent contract talks with the Hornets' front office, but hasn't received an official offer. Gordon told Yahoo! Sports on Monday night he was informed by Hornets general manager Dell Demps that Stern must decide whether to extend an offer. The NBA owns the Hornets. Gordon wants to re-sign with New Orleans, but is uncertain if or when Stern will reach out to him or Pelinka.

"In terms of my contract extension, Dell Demps indicated that it's out of his control and NBA commissioner David Stern has the last determination on the contract extension," said Gordon, who will be a restricted free agent this summer if he doesn't sign an extension.
via
Gordon waiting on Stern to give him extension - NBA - Yahoo! Sports
.
The league of course notoriously vetoed a trade of
Chris Paul
to the
Lakers
involving the
Rockets
that upset all three teams and generally made everyone act as if all common laws of decency were being upended, despite the trade actually being quite bad for the Hornets long term. This, however, is a bigger deal. Working out a contract extension takes time, and the league not giving Demps the ability to negotiate such a contract severely limits the franchise. Losing Gordon in free agency should he enter restricted free agency and sign the qualifying offer would be a disaster for New Orleans.
It's not known whether the two sides can piece together a deal in 24 hours, but in order for that process to even begin, the league has to grant the Hornets permission. If Stern elects not to, it will only cause more outrage from Hornets fans, league pundits, and especially Gordon.