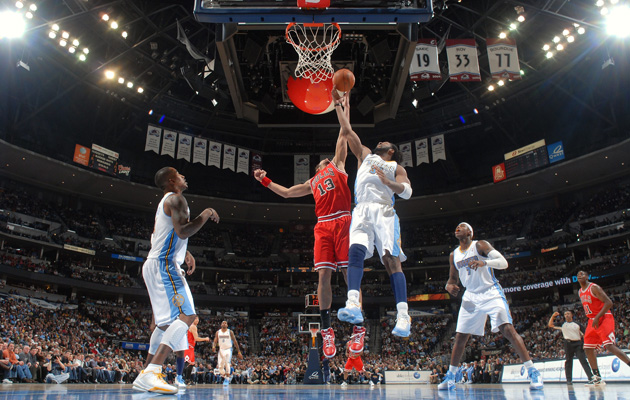 The Bulls and Nuggets both get high marks for their first quarter work
(Getty Images)
This compact season is rushing by and so we've already reached the first quarter-mark of the season. We've seen the Bulls crush nearly everyone even with injuries to
Derrick Rose
and others. We've seen the
Heat
at their best, flying through teams and playing elite defense, and worst, losing in crunch time thanks to
LeBron James
' late-game failures. We've seen the
Celtics
,
Lakers
, and
Mavericks
stumble out of the gate with lingering questions about whether they can recover. And we've seen deep teams like Philadelphia and Denver thrive to become conference powerhouses with speed, youth, and cohesiveness. We've also seen the
Wizards
, but we try not to talk about that. We sat down to grade each team based on potential and expectations, graded on a curve. Here's what we came up with.
Atlantic Grades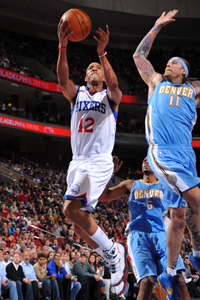 The Sixers have surprised nearly everyone with a hot start.
(Getty Images)
by Royce Young

Philadelphia 76ers (11-5)
It's a little bit hard to know what to make of the Sixers. They're good, yes, but are they really this good? They're four and half games up in their division, but can they really stay there? They might be a top four East team now, but are they really a contender? I think it's a bit easy to look at the roster, seeing no true stars and assume they're overachieving. And while maybe they are, the truth is, the roster is well constructed and every play knows and executes his role well. The lack of having true scoring might bite them at some point, but the 76ers have been an early season surprise. Not that they're good, but that they're this good.
GRADE: A
Boston Celtics (6-9)
The Celtics endured their longest losing streak in the Big 3 era, started seeing things unravel, are averaging less than 90 points per game and are three games under .500. Think they're happy with this start? The Celtics have done too much and have built enough credibility for us to start writing them off, but something has to start turning around. It's only been 15 games, but there haven't been any decided improvements to date. I think they're still going to be a playoff team, but the fact that's even a question should tell you all you need to know about their first quarter.
GRADE: D
New York Knicks (6-10)
There was this expectation that the Knicks were actually going to be a team contending for the East. That was a funny expectation. Because no matter the starpower you may have and the supposed defensive improvements you've made, you're not winning without at least decent point guard play. The
Tyson Chandler
signing seemed good at the time because it gave the Knicks help on the interior, but I think it's a legit question as to if this team would be better without Chandler and with
Chauncey Billups
. They're sitting on a six-game losing streak and are 6-10. The contender talk was premature, but they shouldn't be this bad.
GRADE: F
New Jersey Nets (5-12)
The Nets were dealt a really bad hand when
Brook Lopez
went down before the season even really started. It's kind of tough to rebound from losing your second best player. As a result,
Deron Williams
hasn't really played well and the team has steadily lost games. Really, the lone bright spot has been rookie
MarShon Brooks
who looks to be a fine scorer to have next to Williams in the backcourt. But the worse it gets for New Jersey, the more anxious the trade deadline will be. The good news though: They're only a game and a half behind the Knicks right now.
GRADE: D
Toronto Raptors (4-13)
A decent start gave a little hope in Toronto that maybe Dwane Casey's defensive and motivational tactics were going to be able to lift the Raptors a bit. And while they're playing better defense and
Andrea Bargnani
is finally realizing a bit of his potential, this is still a bad team. They've fallen to the bottom of the East, have lost eight straight and don't really seem to have a way out right now.
GRADE: D
Central Division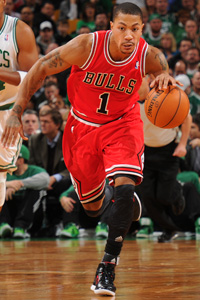 What, you expected anything less from the MVP?
(Getty Images)
by Ben Golliver

Chicago (15-3)
The Bulls have taken care of business on and off the court, jumping out to the league's best record and locking up Derrick Rose to a long-term extension. A Year 2 drop-off under the demanding Tom Thibodeau hasn't materialized, as Chicago's defense and rebounding numbers continue to be excellent. Nitpick
Joakim Noah
and preemptively wring your hands over
Carlos Boozer
in the playoffs if you must, but this is as good a team through the first month of the season as there is in the NBA.
GRADE: A+
Indiana (11-4)
It's so nice when a plan actually comes together. The
Pacers
have one of the best fitting rosters 1-10 in the NBA, a carefully-constructed group that makes up for an absence of true starpower with hard work, excellent team defense and well above-average attention to detail on the glass. Axing Jim O'Brien for Frank Vogel is looking like one of the best under-the-radar moves league-wise, and Vogel should get some Coach of the Year buzz if the Pacers are able to deliver a top-4 seed in the East.
GRADE: A
Milwaukee (6-9)
When
Jon Leuer
is the best thing your franchise has going, it's probably time to break out the amnesty clause and dynamite on the roster. A 2011 NBA Draft day trade brought a discontented
Stephen Jackson
and his baggage and not much else. The
Bucks
get hammered on the boards and have struggled mightily to score the ball for stretches this season. An upset this week of the Miami Heat was clearly the season's highlight, and Milwaukee's record will definitely improve once their home/road game imbalance evens out, but this is a treadmill of expensive mediocrity.
GRADE: C-
Cleveland (6-9)
After 15 games, Cleveland is percentage points away from being a playoff team, something no one saw coming entering the season. Rookie sensation
Kyrie Irving
deserves the lion's share of the credit and it's great to see
Anderson Varejao
back to double-double form. There are an unbelievable amount of truly awful teams in the Eastern Conference; being a cut above that flotsam through the first quarter of this season is a great first step for this rebuild, even if Cleveland falls off as the playoffs approach.
GRADE: B
Detroit (4-13)
A mish-mashed, talent-deficient roster and some questionable contracts during the free agency period kept expectations low entering the season. The
Pistons
are right on target to be terrible, in line for a top pick in what should be an excellent 2012 Draft crop.
Greg Monroe
has shown impressive growth and
Brandon Knight
is getting some meaningful seasoning but, once again, the end of the season can't come soon enough.
GRADE: D
Southeast Division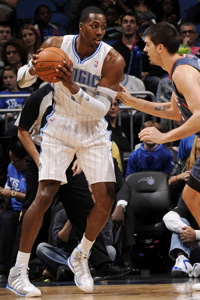 Uncertainty around Dwight Howard hasn't stopped the Magic
(Getty Images)
by Matt Moore

Orlando Magic (11-4)
Considering the entire organization is stuck with a gigantic scythe hanging over their heads (which
Dwight Howard
is holding while smiling away), they've done exceptionally well. They have big wins over the Lakers and Knicks, have improved play from
Ryan Anderson
, and are executing well on both sides of the ball. All this and
Glen Davis
and
Jameer Nelson
have been struggling. The Dwight Howard circus has only made them stronger, it seems, and the possibility of him being traded before the deadline seems awfully slim.
GRADE: A-
Atlanta Hawks (12-5)
You know the Hawks, I know the Hawks, we both know the Hawks. They are 8th in offensive efficiency, 5th in defensive efficiency, solid play all over, have overcome the loss of
Al Horford
, signature wins over the Heat and Bulls, signature losses to the same. Atlanta keeps plugging away, and will be in the top five of the East when all is said and done. They'll lose out in the second round, and the salary will still seem too much. But there's something to be said for playing professionally and winning, and the Hawks have done both despite losing Al Horford.
GRADE: B+

Miami Heat (11-5)


The Heat continue to be that student where if he or she applies his or herself, they can get the highest marks in class and set the curve. When they don't, they produce work that you post on the fridge in the teacher's lounge and make fun of, it's so bad. The offense looks better, right up until those final two minutes, and the defense is still great. There have been improvements all over the place for this team, despite some puzzling losses.

GRADE: B+
Charlotte Bobcats (3-14)
The Bobcats have won just three times.
Byron Mullens
starts for them. They have some awful blowout losses on their roster. And yet, this team has a passing grade. Why? Because for what this team is supposed to be, they've played to expectations. They compete, they try out different, young players. They're not just trotting out veterans to try and cheap their way to a win.
D.J. Augustin
has played well,
Gerald Henderson
has played well, even
Boris Diaw
has played well at times. The Bobcats are rebuilding. It's painful, but it's also what has to happen. They're a train wreck headed on their way to the repair station. It counts that they're at least competing night to night.
GRADE C-
Washington Wizards (2-14)
And then there are teams that are train wrecks flying off the canyon. Lack of effort. Lack of cohesiveness. No fundamentals. Poor offense. Terrible defense. Bad decision-making. Players with big contracts who are booed by their own fans. Silliness. Flotsam. Jetsam. Barnum. Bailey. And their sister, Sue. This is the worst team in the league.
GRADE: F-
Southwest Division
by Matt Moore

Memphis Grizzlies (9-6)
A terrible start to the year could have unhinged this team. Losing
Zach Randolph
was a disaster,
Darrell Arthur
a nightmare.
Mike Conley
going down was pretty much the death knell for them to start the season. They could have unhinged, broken apart, pointed fingers, gone solo, and fell into the dark. But the team got back to its identity as a scrappy team that kills you with options, hustle, and heart. It got itself right on the perimeter,
Marc Gasol
stepped up, and the Grizzlies lead the division. Lionel Hollins could coach his way out of an underwater prison chained to cement in shark-infested waters.
GRADE: B
San Antonio Spurs (10-7)
The Phoenix
Suns
have a better defensive efficiency than the Spurs do on Monday. But only six teams have a better offensive rating. Sound familiar? The Spurs have reverted back to their "score-a-lot-don't-defend" ways of last season. The wins are coming, slow and easy, and it's easy to see this team winning the division in a landslide. But it's also hard to see this team competing for a title if it doesn't buckle down and get back to the defense it showed the first two weeks of the season.
GRADE: B-
Dallas Mavericks (10-7)
Yuck. Talk about a hangover. The Mavericks' biggest issues are in conditioning. They're just not in great shape. They've all got injury issues, they haven't come together, and they are struggling to find an identity with the players they lost in free agency. There's time to get it right, and they've started to find ways to win. But this team looks like a shell of the one that took the Mavericks to the promised land.
GRADE: C+
Houston Rockets (9-7)


The Rockets are 7-1 at home and 2-6 on the road. They can seem like world beaters the first minute and a definite lottery team the next. It's maddening trying to understand what this team is and where it's going. But they've gotten it together enough to make a run and look to be as in the race as any team in this wacko division.

GRADE: B-
New Orleans Hornets (3-13)
They give some fight, but the talent isn't there. Injuries have wrecked them, and the team is more than aware it is now a team of castoffs. The new players were castoff to get
Chris Paul
, the old players were castoff by Chris Paul. Tanking is what's best for this team, but they're still well coached. They just don't have the weapons to get it done.
GRADE: C-
Northwest Division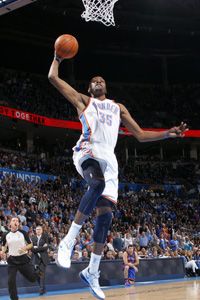 Durant and the Thunder are right where they should be.
(Getty Images)
by Ben Golliver

Oklahoma City Thunder (13-3)
The slip up against the Washington Wizards was both memorable and regrettable, but OKC has otherwise been clicking on all cylinders to start the season. It doesn't come as a surprise, given how aggressively
Kevin Durant
and company attacked the lockout. If you're handicapping the West, it sure looks like "Thunder or the field" already, which is scary given the youth of their core. Did I mention that they locked up an All-Star point guard for the next half decade?
GRADE: A+

Denver Nuggets (12-5)
Denver is leading the league in pace while protecting the basketball at a better than league average rate and the up-tempo approach under speedster point guard
Ty Lawson
is currently producing a top-3 offense. Lawson should be an All-Star this season and not even some disgruntled comments from
Andre Miller
have thrown off a Nuggets team that continues to surge after moving
Carmelo Anthony
to the Knicks at the deadline. Depth, youth, energy and talent: it's all there. Given the loss of multiple rotation guys to China, it wasn't supposed to be this smooth.
GRADE: A
Utah Jazz (10-5)
Arguably the NBA's biggest first quarter surprise, the Jazz have found success thanks to a favorable home/road schedule so far and a compete-every-night roster that allows coach Tyrone Corbin to go deep into his bench. The
Al Jefferson
/
Paul Millsap
tandem has thrived so far. There are clearly questions about whether this is sustainable but after the ugliness of last season, Jazz fans are playing with house money in what was expected to be a rebuilding gap year.
GRADE: A-
Portland Trail Blazers (9-7)
A hot start, fueled by Rose Garden success, raised expectations for a potential playoff run, but the Blazers have issues: poor shooting, lack of frontcourt depth, ball control at the point guard position, and a continuing minutes crunch that keeps
Nicolas Batum
on the outside looking in. Assuming
Raymond Felton
picks up his atrocious play as the season wears on, the Blazers should be a lower-seeded playoff team, but it will take a superhuman series from
LaMarcus Aldridge
or
Gerald Wallace
to prevent yet another postseason one-and-done.
GRADE: C
Minnesota Timberwolves (7-9)
Thanks to the arrival of
Ricky Rubio
and the return of a fit
Kevin Love
, Minnesota has transformed into the Land of the 10,000 eternal-hope-springing Lakes. A consensus pick for "one of the most fun teams to watch" Minnesota could be a +.500 team already if not for some early season slip-ups. It's only fair to grade this significant progress under new coach Rick Adelman on a curve compared to previous years of pathetic play and inept management.
GRADE: B+
Pacific Division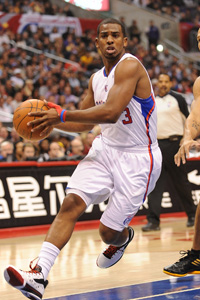 Is Chris Paul the new king of L.A.?
(Getty Images)
by Royce Young

Los Angeles Clippers (9-5)
You know what's funny? The fact the Clippers are atop the Pacific Division, firmly in the top eight of the West and it still feels like they've underachieved a bit. That's weird, right? The Clips have played well through the first quarter, have a few statement wins with their five losses coming against quality opponents, but just a +1.3 point differential and some obvious issues within the rotation and some of the decision-making coming from the bench make it feel like the Clippers could've done better in the opening couple weeks. But then again, the Clippers are in first place!
GRADE: A
Los Angeles Lakers (10-8)
At first we were all like, "The Lakers are falling apart," and then we were all like, "The Lakers are the best in the West!" and now we're all like, "Man, I don't know about the Lakers." They started 0-2, then won nine of their next 13, but now have dropped three straight. A 10-8 mark isn't good enough for the Lakers, and it's definitely doesn't feel right they're looking up at their roommates in the division. The Lakers are having serious problems scoring the ball (averaging just 92.3 ppg and haven't scored at least 100 points since Jan. 3) and lack depth. They are still good, but it's going to be a bit of a bumpy ride it appears.
GRADE: B
Phoenix Suns (6-9)
The frustrating thing with the Suns is when they beat teams like Portland or New York or Boston and you wonder, maybe this team isn't THAT bad. And then you look at their 10-man rotation and see that other than
Steve Nash
and
Grant Hill
, who collectively could be World War II vets, that this team just isn't good. Six wins in 15 tries is probably overachieving which isn't what they should be doing. They should be preparing to set dynamite to it all and doing the right thing and freeing Steve Nash to go play somewhere where it matters.
GRADE: D+
Sacramento Kings (6-11)
It's been an eventful quarter for the Kings.
DeMarcus Cousins
already had a couple issues, Paul Westphal got fired, Jimmer Mania has been trumped by Rubio Fever and the Kings are a pretty bad team. I honestly was a little surprised when I looked at their record and saw they had six wins. They have won two of three though with victories against the Spurs and Pacers (before getting demolished by Memphis), so maybe there's a page being turned. Maybe.
GRADE: C-
Golden State Warriors (5-10)
Sometimes, a full on culture change doesn't just happen overnight. Shocking, right? Mark Jackson has worked to get his Warriors to defend and while they're a little better in terms of points per game allowed (99.4), they're still in the bottom third of the league in defensive efficiency. Basically, they're just playing slower (14th in pace) and are trying to make their defense defend fewer possessions. They've been without
Stephen Curry
for a lot of the season though and have really strange wins over the Bulls, Heat and Knicks, but are losing games they shouldn't. They really don't look all that different to me. It's hard to change culture without changing personnel. And that might be the next move for owner Joe Lacob and company.
GRADE: C