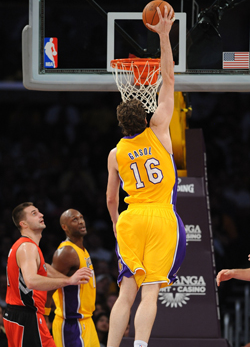 Posted by Royce Young


Laker fans are getting hungry.
It's not big secret, but the
Lakers
offense is struggling. Here's how much: They haven't scored 100 points since Jan. 3. That's 20 days without tacos. That's not acceptable in Lakerland. Those people want their tacos.
So what's the problem? It's easy to just point to things like Mike Brown and the adjustment from the Triangle, but it's also things like players are producing.
Blame
Kobe Bryant
all you want, but the guy is doing his part. He's tried the whole scoring 40 a night thing and while that works, that's not sustainable. He's tried cutting down on his shots and playing more efficiently, but that hasn't really worked. Why? Because his counterparts aren't picking up the slack. One notable name being
Pau Gasol
.
What's the deal with Gasol? He's not doing enough on the block, he says.
Via ESPN.com
:
"I would like to get a little more inside, myself," Gasol said. "I always like to have different looks and be able to attack from different angles. The second half I didn't have one chance to attack from the post, so I was more of a facilitator. I got two jumpers, open, that I missed, and that was all the opportunities that I had."

[...]

"A little too many jumpers for my taste," Gasol said. "I'd like to get a couple more looks inside the paint. That'll increase the [shooting] percentage."
Gasol isn't a bad jumpshooter by any stretch, but he is a dynamic post scorer. Gasol's scoring is down to 15.8 points per game, which is the lowest ever in his career. His shots attempts are down a bit, he's taking only 3.3 free throws a game and he's already taken 11 3-pointers this year (his career-high for a season is 15).
It's obvious that outside of the Triangle, which had post-up plays built in because of plays within plays, Gasol doesn't know how to get the ball in workable positions. He's not blaming Brown's offense so much as just saying he has to figure out how to get out of this jumpshooting rut and go back to the block where he's one of the best players in the league.
Nothing will help the Laker offense more than diversified scoring and that starts with No. 16. Once Gasol starts producing from inside and out, it opens the door to possibilities. You get the big man connection between him and Andrew Bynum, Kobe becomes more dangerous and the Laker shooters are a threat.
So if the Laker offense is going to get on track, a lot of it is going to start with Gasol finding his way to the paint.