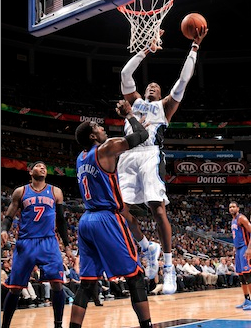 Posted by Royce Young
Not all trade rumors are created equal, so with this one, I don't think much setup is needed.
Via Stephen A. Smith on his ESPN Radio show in New York
:
"As I told you a little bit earlier in the hour, I have some news to report about your New York Knicks. The Orlando Magic, I will preface my statement by telling you that they have categorically denied this, but my sources tell me that they have inquired about Tyson Chandler and Amar'e Stoudemire going to Orlando for Dwight Howard.

Let me confess to you that I'm torn. From a basketball standpoint, it would seem you do that trade in a heartbeat. You don't teach seven-feet and you don't teach the dominate and the skills that Dwight Howard has. But I like Tyson Chandler. I like the fact that he rebounds and defends."
Forget the part about how Howard isn't seven feet tall and that he kind of sort of defends and rebounds. The question is, is this really a possibility?
This isn't exactly new news though.
Ken Berger of CBSSports.com wrote a couple weeks ago
multiple GMs had already floated this trade idea. Now all that's happening is evidently the two sides have actually discussed it to some degree.
Here's the thing with trade talks: I wouldn't doubt that this has been "discussed." Because a lot of GMs gauge the market by dangling trade ideas to other GMs. Kind of an effort to feel another guy out, see how much he values a player and sees if maybe eventually there could be a deal put together. Or to just see what maybe the state of a trade is to know what a competitor might have to give up.
That's my feeling of this supposed inquiry by the Knicks for Dwight Howard. I also suspect 28 other teams have "inquired" about Howard's availability too. That's kind of the thing that happens when the big big man in basketball apparently is available for the right price.
Would a Howard and
Carmelo Anthony
tandem do any better than an Amar'e - Melo duo? Maybe, probably, but there's really no way to know. The Knicks have bigger issues than just in adding starpower. The Knicks need depth, a point guard than can control and offense and for Carmelo Anthony to play better.
The Dwight Howard discussion is fun, but it's not realistic. And quite honestly, I think Magic GM Otis Smith is gaining confidence that Howard might just want to stick around in Orlando. I think that's the best shot to take for the Magic anyway. Discussing trades is one thing. I wouldn't be surprised if a team "inquired" about
Derrick Rose
last week too. Doesn't mean a deal is happening.