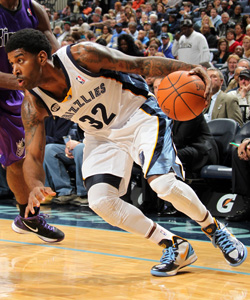 O.J. Mayo is playing well enough, he may stay in Memphis
(Getty Images)
By Matt Moore
O.J. Mayo
did not have a good 2011. He got into a fight on a team plane with
Tony Allen
over a card game. He was busted for a banned substance he says he got from an energy drink from a gas station. He was benched for the first time in his competitive-playing life, had some injury issues, and generally wasn't himself. He was nearly traded to the Indiana
Pacers
... twice.
2012, as it turns out, is a much better fit for the fourth-year shooting guard.
Mayo has worked out his issues with coach Lionel Hollins, has a better understanding of his role on the
Grizzlies
, and has rediscovered his shooting touch. His 45.8 percent field goal percentage matches his career high, and his 48.9 percent mark from the perimeter is downright scorching. He's been focused in on both sides of the ball, has his career mark in PER, and rebound percentage. In short, he's playing pretty well.
And the
Memphis Commercial-Appeal
reports that the result is a move away from actively pursuing a trade for Mayo. He may not be off the table, but he's no longer on the block. Not only that, but he could wind up staying with Memphis even after he enters restricted free agency this summer.
Truth is, Griz management isn't seriously thinking of dealing Mayo nor is his possible, restricted free-agent status this summer a major concern. Mayo likely will remain with the Griz this season because of his productivity and the Grizzlies' ability to control his future with the right of first refusal on contract offers.

Although Mayo is eligible to negotiate a long-term contact extension with Memphis by Wednesday, the Griz aren't compelled to agree to a deal or trade him at the moment.

"It remains to be seen whether something happens or not," Griz general manager Chris Wallace said about a Mayo contract extension. "If it doesn't happen I wouldn't read much into it. We didn't extend Rudy and resigned him. It's a floating situation. I wouldn't say (Mayo) is a lock to be with us after this year and I wouldn't say he isn't. There's so much ground to be covered between now and July."
via
Grizzlies guard O.J. Mayo beginning to flourish in reserve role » The Commercial Appeal
.
Eight months ago, it seemed impossible that Mayo would still be in Memphis even now. Now it's possible that the Grizzlies, after clearing some cap space by trading
Xavier Henry
and moving other pieces. Michael Heisley being willing to go into the luxury tax with five players on roster on big, long-term deals seems unlikely, but with the success Memphis has found, there's no way to tell. It's good to see a player work through his trouble with a team and come out productive on the other side.