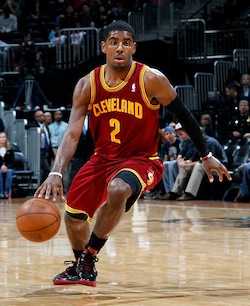 Posted by Royce Young
Playing point guard in the NBA isn't easy. Especially if you're rookie.
You've already got enough to worry about like setting up teammates, creating scoring opportunities and picking when to get your own. And that's before worrying about the other end.
Which seems to be a bit of an issue with Cavs rookie
Kyrie Irving
. He's forgetting that other end.
Via Cleveland.com
:
[Byron] Scott met with his rookie point guard Saturday in Atlanta to discuss the youngster's lax defense, which has been a source of consternation for the coach since the season started. In his most pointed comments to date, Scott said Irving's minutes won't increase until the No. 1 overall draft pick elevates his defensive intensity.

[...]

If Watson can, as Scott said, "go around [Irving] like he was standing still," imagine what trouble Rose or other elite point guards will cause him.

"You are going to run into a guy every night that can play and if you are not ready or you're lazy or you're just not into it, you are going to get eaten up," Scott said. "When he starts playing better defense and playing at the pace I want him at -- getting the ball up and down the floor the way he's capable of doing -- then his minutes will increase."
That's not sugarcoating it. That's coming after your rookie pretty hard. Which is often what guys need. They need to be told that yeah, it's great you're scoring and passing but there are two parts to this game. And if you're only going to play one, then you're not going to play at all.
Byron Scott has always been a bit tougher on guards to play defense because it's part of who he is. He was a good defender himself and approaches the game with the mind that playing good defense comes first.
Irving is obviously the future of the Cavs and Scott just wants him maximizing his potential, on both ends. Scott wants him pushing the ball, playing free and creating, but he also wants him defending. When you're getting ragged on because
C.J. Watson
tore you up, like Scott said, what happens when Rose is healthy next time?