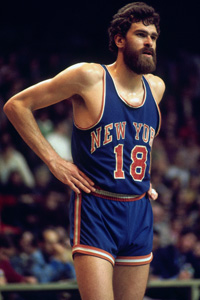 Phil Jackson says he's not interested in coaching again, but New York is "special"
(Getty Images)
By Matt Moore
For starters, Phil Jackson told the New York Times he's not interested in coaching right now. Let's get that out there, first and foremost. See, I'll even blockquote it, from the
New York Times
:
"I have no desire to coach," he said. "You never say never, right? I mean, there's always something that might change my mind — but I just don't see it.
So Jackson is not "considering," "exploring," "rumored to be interested in," or in contact with the
Knicks
. He's hanging out in Montana and L.A., being Phil Jackson, and probably being pretty happy with the fact that when he baggage checks his championship jewelry, he has to pay the extra weight fees.
However, the very next quote in that article is what makes you stop and go "hmmm" much as Arsenio Hall did in the early 1990's.
"Without a doubt, New York is special," he continued in a vein a little more encouraging for Knicks fans. "Why wouldn't it be? When I was there, it was one of the greatest times to be in New York. I mean, the Mets, Jets and Knicks won championships all in one year."
via
Phil Jackson Is Seduced by the Energy of New York - NYTimes.com
.
Jackson, of course, won his first NBA championship as a player with the Knicks in the 1970's. A former teammate from his time there, Walt Frazier, is the color commentator. Bill Bradley, another teammate, lives there. He has history there.
Mike D'Antoni is in the last year of his contract. The Knicks are stuck in neutral, and D'Antoni's high-flying system is ill-suited to focusing around a shoot-first, shoot-last, shoot-always small forward in
Carmelo Anthony
and without a legit point guard,
Amar'e Stoudemire
has none of his strengths being maximized. The Knicks are a better defensive team this year, but the offense is so dreadful that finger-pointing has begun. As far back as three years ago, when Jackson was still winning titles with L.A., there was talk of Jackson returning to finish off his coaching run where it began, at Madison Square Garden.
The fact that the current Knicks roster is so amazingly optimized for the Triangle offense Jackson has always run (and been the only coach to be successful with it in the NBA) should not be overlooked. With
Tyson Chandler
in the low block, Amar'e Stoudemire in the high post, and Anthony on ther perimeter, it would allow Anthony to improvise, shoot and create, while not forcing him into running the entire offense, as the Triangle delineates decisions down to a set of options versus a free-flowing system. The Knicks lack of real guard help, even with the return of
Baron Davis
, would be acceptable as they would rotate weak side available for kick-outs as shooters on kick-and-drives to the basket from the far side.
The coach back where it started. A team in need of his talents. The similarities between
Kobe Bryant
and Carmelo Anthony, their friendship, even. One last run to finish his illustrious career where it began. It's too perfect. Which is why it probably will not happen. And yet, even as Jackson says he doesn't miss it... he kind of does. Again, from the
Times:
"I don't miss it. I really don't miss it. But I think I have to stick my finger into an electric socket every once in a while just to get a little jolt out of life to keep it going because that's what gave me the joys, the jollies of life."
So, no, Phil Jackson will not be coaching the Knicks. Probably. Most-likely.
...
But if he did ...