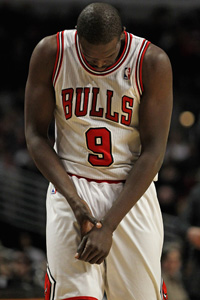 By Matt Moore
Update Monday 9:22 p.m.:
Deng did not play Monday, as expected, and after consultations with doctors, the new does not sound good. The
Bulls
have yet to release a formal statement as to the extent of Deng's injury beyond the initial wrist sprain diagnosis, but Tom Thibodeau's words to reporters before Monday's game vs. New Jersey do not spark confidence for Bulls fans. From the AP:
The news on Deng wasn't great, with coach Tom Thibodeau saying he was "still consulting some doctors" and remains day to day after being injured late in Saturday's game against Charlotte. Asked if Deng would need surgery, Thibodeau said, "I don't know. I don't think so, would be my guess."

Losing Deng for an extended period would be a big blow for a team that entered Monday's game with the league's best record. He tore a ligament in his right wrist near the end of his 2004-05 rookie season.
So the news went from "Deg wants to play" to "Deng is totally not playing" to "Deng is probably not going to have surgery, maybe." The Bulls can afford to lose Deng for a week, for two weeks. After that it gets dicey. He just does too much on the Bulls. We'll keep ou updated on his condition.
******
There's a running joke with Bulls fans that Tom Thibodeau prays for overtime each game so he can have more minutes to play
Luol Deng
. Deng is fourth among all players in minutes per game, playing more than 38 minutes per contest, this despite the shortened schedule and the fact that the Bulls are usually up by double digits in the fourth quarter of most of their games. And Deng has upheld exceptionally well so far, but a wrist injury will likely keep him out Monday vs. the
Nets
in Chicago.
From the
Chicago Tribune
:
Deng underwent an MRI on his sprained left wrist Sunday, results of which were not immediately available. He said late Saturday he didn't think the injury would sideline him for a lengthy period.

However, with a normal week featuring no back-to-back games in this compressed schedule, not to mention a Nets lineup that starts three guards, Deng could sit for the first time this season.
via
Chicago Bulls:
Derrick Rose
vows to return Monday, while Luol Deng may miss game - chicagotribune.com.
Deng's not the only Bull with injury issues. Derrick Rose is battling turf toe most notably, but
Taj Gibson
is out with a sprained ankle and
John Lucas
III is also potentially sidelined. The Bulls pride themselves on their total commitment and depth, but at some point, you have to manage the injuries effectively to make sure the team is in the best shape for the long run and especially the playoffs.
The Bulls will still probably thump the Nets, because, well, they're the Nets, and the Bulls have been rolling even without the MVP against better competition this week. Deng's loss is a bit bigger if he sits, however. He does so much on both sides of the ball for the Bulls, he's honestly nearly as valuable as Rose. But without a single wing threat on the Nets outside of outside shooter
Anthony Morrow
, this may be the best game to sit Deng, so he can get healthy.
And go back to playing 40 minutes a game.