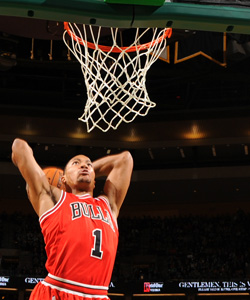 By Matt Moore
Update Monday 9:11 p.m.:
Derrick Rose
did in fact suit up for the
Bulls
Monday night against the
Nets
and was his usual dominant self, scoring 14 points and four assists in the first half. Before the game, Rose told the AP that he thought the turf toe injury could bother him for the rest of the season. Not optimal for the Bulls who need Rose as close to full strength as possible. Expect Rose to pepper the season with absences and to shut it down as soon as the Bulls lock up whatever playoff seed they're comfortable with.
*****
Derrick Rose has missed several games this season due to a painful turf toe injury. There had been discussions of him missing further time, but it turns out the MVP is planning on making a return to the floor on Monday.
As for Rose, he told teammates on Friday in Cleveland he planned to play and didn't. So the morning shootaround could determine if he can play on his sprained big left toe.
via
Chicago Bulls: Derrick Rose vows to return Monday, while
Luol Deng
may miss game - chicagotribune.com.
Rose recently
said the injury is more painful than a similar injury in his second season
, and there continues to be discussion of whether it is turf toe or a sprained toe, or both that is bothering Rose. It's also strange that Rose plans to play if the toe isn't 100 percent. The Bulls have been fine without Rose, tearing off three straight wins without the reigning MVP since a Monday loss in Memphis.
C.J. Watson
and
John Lucas
III have filled in admirably.
But Rose's determination tends to get ahead of his self-preservation. The Bulls should remain cautious with Rose to make sure he's in top condition for the playoffs. The injury may take longer than Rose has to heal, but extra time off won't hurt. Don't be surprised if Rose winds up taking off another day, but for right now, he's planning on giving it a go.
Meanwhile, Luol Deng
is likely to miss the game
in Chicago Monday with a sprained wrist,
Taj Gibson
is out with a sprained ankle, and John Lucas III is a game-time decision with a groin injury. In short, the Bulls are banged up. Tom Thibodeau has a deep bench but has been known to play starters long minutes. Perhaps with as well as his team has played when missing its players and with the injuries racking up, he'll be more receptive to easing up on players' minutes to help them get healthy while still contributing. An MRI for Deng was held over the weekend. Results weren't available, but the
Chicago Tribune
reported Deng said after that he didn't think he'd miss significant time.