Posted by Royce Young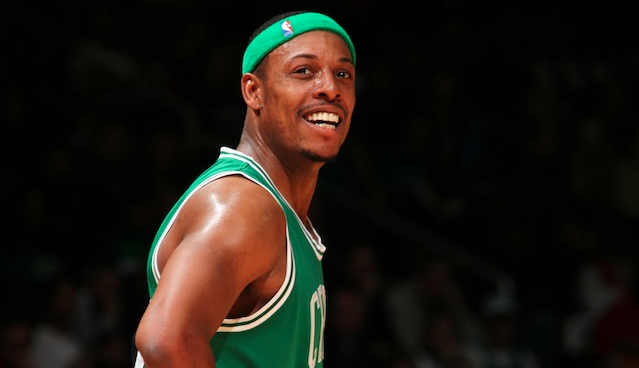 Your nightly report card gives you a big picture look at what happened each night in the NBA. Grades are granted based on team or individual performances, and are graded on a curve for each element. Leave your own grades in the comments.

If anyone is taking advantage of
Chris Paul
's injury, it's Mo Williams. And here's the irony: Paul's injury may end up benefitting the
Clippers
. As a result, Williams has been able to showcase he still has a little All-Star ability in him after putting up another big line with 26 points against Toronto. With Williams playing so well, his trade value is climbing and the Clippers, who don't have a ton of need for him once CP3 returns, could dangle him at the deadline for a 2-guard or interior post defender.

The
Celtics
are looking old and hobbled, but Pierce still has a good amount left in the tank. Granted, it was against the
Wizards
, but Pierce was in triple-double territory with 34 points, 10 assists and eight rebounds. Pierce got his points on just 15 shots and did it as he likes to -- getting to the line, attacking the middle of the floor and hitting open shots when he got them.

The Pacers failed to make a statement earlier in the month in Miami, but did exactly that Sunday night notching a signature win over the
Lakers
in Los Angeles. All five starters scored in double-figures and the Pacers just played a wise, defensive game limiting Kobe's counterparts. It helped hitting 10-18 from 3 and the fact the Lakers missed 11 free throws. Regardless, the Pacers needed this type of win to really grab attention and they executed and got it done.

Finally, it looks like John Wall might be turning a corner. After a disappointing start to his sophomore season, Wall has had a better week. Against Boston Sunday, he put up 27 points, seven assists and 10 rebounds. In order for Washington to stay competitive with anyone, that's how Wall has to play. I'm sure the dysfunction and losing have weighed on him, but he has to realize a lot of it is on his shoulders. And if he can bring it like he has lately every night, the Wizards can play with people.
Washington Wizards

The Wizards lost again dropping to 2-14, but they kind of hand a decent week. They beat the
Thunder
, were competitive against the
Nuggets
and nearly beat the Celtics. I wouldn't say they're coming around to get excited, but it definitely is encouraging to see they haven't completely quit. Continuing to play hard and competing is often the first step in turning things around.

Check out his line: 23 points (good), 5-20 from the floor (not good), 12-13 from the line (good), 1-10 from 3 (not good). Milwaukee got good games from
Ersan Ilyasova
and Andre Bogut which was enough to beat Miami, but Jennings' night was a little bit of a mess.

The Raptors kind of had a little promise to them early in the season. Dwane Casey had them defending,
Andrea Bargnani
was off to an All-Star caliber start and there was some legit optimism about the direction. But they've now dropped eight straight games, the most recent being at the hands of the Clippers in a game they were handled with relative ease (just 11 first quarter points for the Raptors). Things may be improving in Toronto, but not quite at the pace some might've thought.
Heat players not named LeBron or Chris

LeBron James
and
Chris Bosh
combined for 61 of Miami's total of 82 against the
Bucks
. Only one other player scored in double-figures (
Mario Chalmers
) and no other player scored more than six. It was an extremely weak effort from the Heat's role players and without LeBron playing an incredible game, Miami wasn't going to win like that.