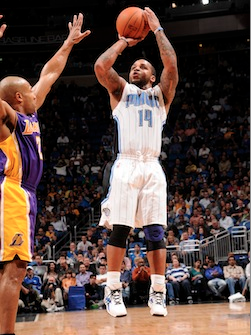 Posted by Royce Young
Just by judging the standings, the noise around
Dwight Howard
hasn't really affected the
Magic
's play on the floor. Orlando is 11-4 and third in the East.
But just because they are winning doesn't mean some of the players on the roster have completely tuned out the chatter. For example,
Jameer Nelson
hasn't forgotten when Howard said a few months ago that he'd like to play with star point guards like
Deron Williams
or
Chris Paul
.
Via the Orlando Sentinel
:
"I'm here to play basketball and I can't worry about what anybody says. I'm here because I'm a winner and they want me here. I know if they didn't want me, I wouldn't be here," Nelson said. "I'm human and a lot of things affect you. We're basketball players, but we're also human. A lot of the stuff that came out about other point guards being here was basically months ago, so if I was hurt, I'm over it."
General manager Otis Smith agrees with Nelson and doesn't blame him for feeling a bit jilted saying that Nelson hasn't played well this season because Howard "indirectly threw him under the bus."
Nelson's numbers are pretty much down across the board, but regardless, the team is winning. But that's never really been a major problem with the Magic in the regular season. Where things have unraveled is in the postseason, where players like Nelson haven't supplemented Howard quite well enough.
But you can't blame Nelson for feeling it a bit from Howard's comments. Everyone is human and everyone wants to be wanted. So when Howard basically says openly he'd rather have another point guard rather than the guy he has, you know Nelson hears and feels that. How could you not? Yeah, everyone knows what Howard means and wants, but still, the so-called right thing to say would've been, "I'm here and these are my teammates and I'm happy to play with them." Or something like that.
Instead, Nelson has to play knowing that deep down -- or maybe not even that deep -- Howard would happily ship Nelson out of town in exchange for a point man like Paul or Williams. Has to at least be something that's in his mind.
The fact the team is winning says that the trade stuff isn't a distraction, but it has to weigh on the team to some degree. Some have to be wondering if their time in Orlando is about to be up or if their franchise cornerstone is about to be exchanged for draft picks and some new faces.