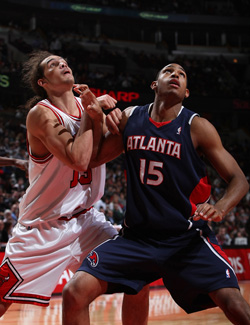 Posted by Royce Young
Derek Fisher
might be better known for his work as union president than for his work as point guard as the
Lakers
. Maybe that's not entirely fair, but Fisher represented the union with such class and dignity during the contentious labor negotiations that that's pretty much all I think of when I see him now.
But Fisher doesn't have much time left playing and there will need to be a new union president. Who could be next in line?
According to ESPN.com
,
Al Horford
is a leading candidate:
"File away Horford's name as a likely down-the-road top contender to succeed the Lakers' Derek Fisher as president of the players' union. The stately Fisher was elected president of the players' union in 2006 and had a more visible and prominent role during the five-month lockout than any of his predecessors has ever taken on.

Although he had to weather criticism over his perceived closeness to NBA commissioner David Stern, Fisher generally earned strong reviews for his contributions to ultimately getting a deal done to save the season, which is why he'll presumably be asked by his peers to carry on as president in the short term. But when Fisher has had enough -- he has two years left on a four-year term after re-election in 2009 -- word is that Horford will draw strong consideration as his successor."
I don't know enough about Horford to say whether or not he'd be as good as Fisher, but he would definitely have some time to learn on the fly. The new collective bargaining agreement doesn't have an opt-out for six years and doesn't expire for 10. So Horford might not even be in charge when it comes down to that.
But there's a name floating around to succeed Fisher and Horford is definitely another guy that's well spoken and full of plenty of class.