Posted by
Ben Golliver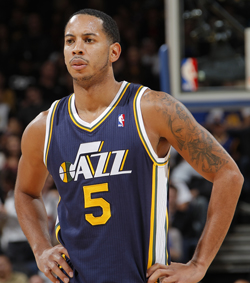 New city, same reality:
Devin Harris
in on the trade block.
ESPN.com reports
that the Utah
Jazz
point guard, acquired in the 2011 deadline blockbuster that sent
Deron Williams
to the New Jersey
Nets
, is being dangled in trade talks, with the Los Angeles
Lakers
as one possible suitor.
The Jazz have made it known that point guard Devin Harris is available via trade, according to front-office sources.

But you can safely assume that Utah won't struggle to find a taker before the March 15 trade deadline, given that Harris only turns 29 next month and has a very movable contract with only next season remaining at $8.5 million.

The Lakers would surely have interest, desperately needing an injection of speed in their backcourt, but the $8.2 million trade exception L.A. created by dealing Lamar Odom to Dallas isn't big enough to accommodate Harris' current $9.5 million salary.
Prior to getting traded to Utah, Harris, 28, was involved in trade rumors for the better part of his tenure in New Jersey. That's the life when you're a good but not great point guard that's not quite in tune with the development life cycle of the team around you. On the season, Harris is averaging 8.1 points and 4.6 assists as veteran reserve
Earl Watson
has stepped into a big minutes role.
The Jazz, at 9-5, are one of the surprise stories in the Western Conference. Loaded with young parts, they've taken advantage of their always excellent homecourt advantage to run out to a hot start. Given that they've played almost twice as many games at home (9) as on the road (5), there's a sense that the current record is a bit of fool's gold and it's quite possible they wind up as a lottery team when all is said and done.
Still, teams in that situation aren't usually eager to part with their starting point guard, even if he only plays 25.6 minutes a night. Any trade involving Harris is likely to come closer to the deadline and involve young pieces and/or picks and/or expiring contracts, the type of assets that would allow the not-yet-formed Jazz to continue developing with maximum flexibility. The Lakers, in particular, don't have much to offer in those departments, at least not without the help of a third team.