Posted by
Ben Golliver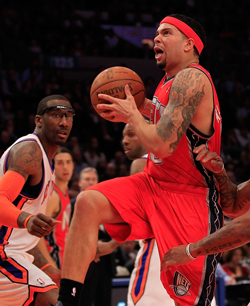 The New Jersey
Nets
are 4-11 and going nowhere fast, so there's no choice but to open the floodgates to reports of All-Star point guard
Deron Williams
' future.
ESPN.com reports
that Williams, who can opt out of his contract and become a free agent this summer, has a list of four teams in mind.
Deron Williams' first choice is to stay with the Nets and to build something special in Brooklyn, but if it doesn't work out with his current team, his short list of desirable destinations includes the Mavericks, the Knicks and the Lakers, according to sources close to the situation.

Williams has publicly stated his desire to re-sign with the Nets, and New Jersey, which views him as a building block for next season's move to Brooklyn, has refused to entertain potential trades involving Williams. Yet both sides know their future together is tied to Dwight Howard.

If the Nets are able to obtain Howard, either through a trade before the March 15 deadline or in free agency this summer, Williams will re-sign. If Howard goes elsewhere, Williams is likely to leave New Jersey, according to the sources.
Ken Berger of CBSSports.com has reported that the Mavericks are
a major player
in the D-Will sweepstakes.
Let's take a quick. look at Williams' four preferred destinations, ranking each on a scale of 1-10 for how badly they need Williams (one being not at all, 10 being desperately).
Dallas Mavericks (6)
: The NBA's oldest team needs an injection of youth and top-flight star talent. Franchise forward
Dirk Nowitzki
had dealt with a nagging knee injury this year and his production has taken a hit. The ageless
Jason Kidd
is less than a year removed from a championship, but he's 38 years old and in the final year of his contract. The Mavericks could potentially have laods of salary coming off their books this summer and the best players they have under contract going forward are Nowitzki,
Shawn Marion
, Rodrigue Beaubois and, potentially,
Lamar Odom
. Williams is the kind of veteran point guard who can get the most out of the mixed-and-matched parts Mavericks owner Mark Cuban always seems to assemble. Given the 2011 rings that are already in hand, landing Williams would amount to a coup rather than a franchise-defining turn of events. If he goes elsewhere, there won't be crying in the streets.
Los Angeles Lakers (9)
: Like the Mavericks, the Lakers are aging and need a longer-term answer at the point guard position. But there's an added urgency, as Lakers guard
Kobe Bryant
approaches the twilight of his career and continues his quest for six rings to match Michael Jordan. Bryant needs a point guard who can create his own offense and make Bryant's life easier. That point guard should have been
Chris Paul
, but we all know NBA commissioner David Stern stepped in on that one. Williams could be that guy, too. Williams and Bryant were both members of the 2008 Olympics Gold Medal-winning team and they share a desire to win immediately.
New York Knicks (10)
: The Knicks are underperforming to start the 2011-2012 season, starting 6-8, and should make a push before all is said and done. But the notion that one of the league's most stacked frontcourts could make up for arguably the league's most barren backcourt isn't panning out, and it's incredibly difficult to imagine this team winning a playoff series without a major infusion of talent. After being subjected to
Toney Douglas
and
Mike Bibby
, Knicks fans are frothing at the mere mention of Williams' name. Swap Williams into the mix for one of New York's Big 3 of
Carmelo Anthony
,
Amar'e Stoudemire
and
Tyson Chandler
and more wins are sure to result.
New Jersey Nets (167,000)
: New Jersey is essentially unwatchable with Williams on the roster so their desperation to retain him really can't be quantified. The Nets mortgaged their entire franchise in trading a package of
Derrick Favors
,
Devin Harris
and picks to acquire Williams from the Nets at the 2011 trade deadline, and they've struggled to surround him with anything except mediocre (and worse) talent. Somehow landing Dwight Howard is the longshot panacea for their team's treadmill of terrible, but good luck with that one. The Williams affair almost certainly ends badly for New Jersey.