Posted by
Ben Golliver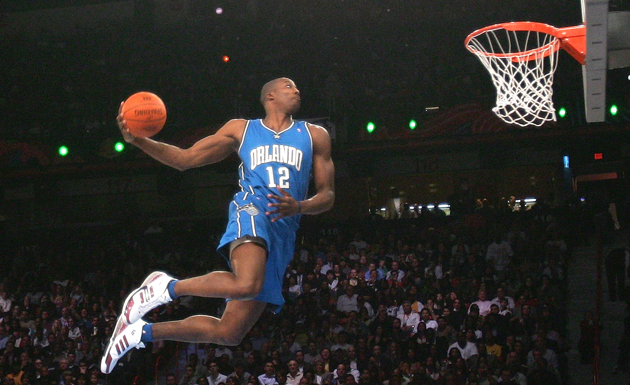 The Los Angeles
Lakers
are in Orlando to face the
Magic
for a nationally-televised game on Friday night, and the future Hall of Fame center who bolted Disney World for Disney Land back in the 1990s is stirring things up between his two former teams.
TNT commentator Shaquille O'Neal said recently that Lakers center
Andrew Bynum
-- and not Magic center
Dwight Howard
-- is the "best big man" in the NBA.
"Andrew Bynum is a true big man,"
O'Neal said
. "He can back you down, jump hook. Dwight Howard has one or two moves on the block. His one move is the running jump hook and the other move is a pick and roll and get inside. Andrew Bynum has the right jump hook and the left jump hook."
O'Neal and Howard have had an ongoing back-and-forth for some time now, and Howard responded to the criticism in comments made to reporters and
posted to NBA.com
on Friday morning.
"He's mad about Superman," Howard said, in reference to a nickname once used by O'Neal and co-opted by Howard for the 2008 Slam Dunk Contest. "I didn't know he made it up. I didn't know Superman came from Shaquille O'Neal... He's still mad about it. I would suggest he just sit down and get on with his life. He don't play no more so what's the point of talking trash. It's not like we're wrestlers and we can battle it out. Who cares?"
Barkley called out O'Neal for picking Bynum over O'Neal based on the "Superman" nickname beef.
"That ain't got nothing to do with it," O'Neal claimed.
Of course, there's no contest. Howard, 26, averages more points, grabs more rebounds, dishes more assists, gets more steals, blocks more shots and shoots a better field goal percentage than Bynum. Howard has missed seven games in 7+ NBA seasons while Bynum has repeatedly been sidelined with injuries.
Here's a statistical side-by-side
if you need convincing. Howard is a 5-time All-Star, 3-time Defensive Player of the Year, 4-time All-NBA first team. Bynum, 24, is having a career year and will make his first All-Star game, but his best individual achievement to this point was making the 2005 McDonald's All-American game. He's probably the league's second-best big man, but he's a distant second.
Magic coach Stan Van Gundy dismissed O'Neal's comments.
"I don't really watch those guys very much. Not that I don't have tremendous respect for what they say," Van Gundy joked, "not that I'm not trying to learn from them at every opportunity, but I just don't have time really... Shaq can say whatever he wants. He has a forum where he's supposed to talk and give his opinions."