Posted by
Ben Golliver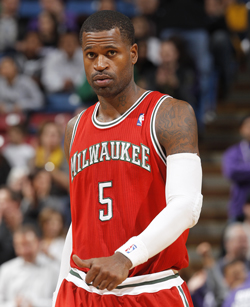 In the most predictable event of the 2011-2012 season, hard-headed Milwaukee
Bucks
coach Scott Skiles has reportedly suspended the equally hard-headed
Stephen Jackson
for Friday night's game against the
Knicks
in New York because his guard missed the team's bus.
The Journal-Sentinel reports
that Jackson was benched during the fourth quarter of Tuesday night's loss to the Denver
Nuggets
and then
wasn't on the bus for shootaround on Friday
. The team told the paper the absence was "unexcused."
Jackson's comments after going 0-for-6 against Denver seemed a bit defensive.
"If they want to blame it on somebody, I'll take the blame," said Jackson, who finished with two points on 0-of-6 shooting in 17 minutes.

"I guess they expected me to spaz out and go crazy, but it's too late in the game for that. I don't know what they were trying to prove. When he (Skiles) didn't play me, my thoughts were to support the young fellas and support everybody out there and try to get this win.

"If they want to make it personal, they can. I'm used to it."
Jackson, 33, is off to a rough start in Milwaukee.
Traded by the Charlotte
Bobcats
to the Bucks in a 3-team deal on the night of the 2011 NBA Draft, Jackson is averaging 13.7 points, 3.6 rebounds and 3.4 assists per game, his worst numbers in nine years. He's made it known publicly that
a contract extension
is "mandatory" and he's
admitted that he checked out
on the Bobcats last season after they traded forward
Gerald Wallace
to the Portland
Trail Blazers
at the trade deadline. Meanwhile, the Bucks are on a 3-game losing streak and in fourth place in the Central Division with a record of 4-9.
Poor individiual play, losing, combative coach: all the elements are there for an explosion. Unfortunately for the Bucks, Jackson's contract runs through 2012-2013, so this situation has plenty of time to boil over.
Hat tip: ProBasketballTalk