Posted by Royce Young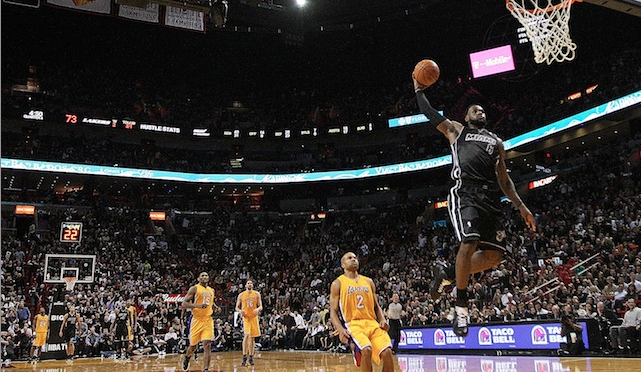 Let me stop myself before I even start: No, the
Heat
are not better without
Dwyane Wade
. Yes, even thinking that is pretty stupid. No, the Heat should not trade him. Yes, that's a whole other level of stupid.
But you know what? The fact the Heat improved to 5-0 without him with a 98-87 win over the
Lakers
Thursday and are 5-4 with him this season is kind of hard to ignore. And it's impossible not to wonder what it might mean.
Here's my conclusion: It means LeBron is still the best player in basketball. And it's not really all that close.
What you see from LeBron is a player unchained from any restraints of fitting alongside someone else. A player that can completely play free, dominate the ball, handle every situation himself and control a game. When Wade isn't on the floor with LeBron, everything is focused on No. 6. It's hard to take your eyes off of LeBron because he holds the game in the palm of his hand.
Remember how with the Cavs sometimes LeBron would get hot and pull up for 3s from all over the floor? Sometimes even just a few steps in front of half court? That's how he goes at it in Miami without Wade. With Wade, LeBron had taken nine 3-pointers total, hitting three. Without him, LeBron has attempted 10 (in four games), hitting six.
In the four games LeBron has played this season without Wade (remember, LeBron sat out with Wade in a win over the
Hawks
), he's averaging 32.2 points, 10.0 assists and 7.0 rebounds a game. With Wade, LeBron's putting up 25.4 points, 5.6 assists and 7.4 rebounds. When LeBron plays without Wade, he becomes the Cleveland version of himself, carrying a lower class of players to a higher place, while he dominates the entire game. Except he has
Chris Bosh
, who plays about the same with or without Wade. But LeBron never had a guy of Bosh's caliber in Cleveland. His supporting cast in Miami without Wade is better than the one assembled with the Cavs.
Now, again, there's no question at all that the Heat are a better team with Dwyane Wade. If they are to win a championship, it will absolutely hinge on the health and inclusion of No. 3 in everything they do. But I do think that LeBron might be a better individual player without Wade. His mind is set free, his game has the shackles removed and he's allowed to roam and own a game in the way he was created to do. But that's the funny thing: LeBron might not ever have won a championship being the clear, indisputable best player in basketball.
Because in order for him to fully realize everything he's amazing at, he has to have free reign over the entire floor. He has to be able to take ownership of a game. That kind of thing can dazzle and destroy teams in the regular season, but was proven to fail in the postseason. He may have been able to win a title on his own, but it would've taken near flawless basketball from him to do it.
Instead with Wade at his side, LeBron can fall asleep in a fourth quarter, can have an off night, can fail miserably at different times and the Heat still be an amazing team. I mean, against Dallas, the Heat were not far off from winning a title despite LeBron not playing well and the fact it was their first season together in a chemistry experiment. That was the whole idea of forming that group in South Beach. LeBron was sick of trying to be perfect. The glory might've been all his had he been able to accomplish the goal and climb to the mountain top. But it would not have been easy. So he teamed with Wade and Bosh and set himself up for a better shot at it.
It really speaks to LeBron's inherent unselfishness as a player and person. Rather than soak it all in and have people drool over his god-like ability on the basketball court, he'd rather fit in alongside his buddies and
win
. The Heat are collectively an awesome team when fully operational. When it's LeBron and the Other Guys, they're still a really good squad that can demolish teams like the
Spurs
and Lakers, but not one entirely equipped to finish the objective and win a championship.
I do want to thank Wade though for taking it easy with his foot and ankle injuries because it's given us the treat of seeing just how freaking good
LeBron James
is when he gets to unleash his full arsenal of ability. Because every now and then, we need to be reminded of just how damn good he really is.