Posted by
Ben Golliver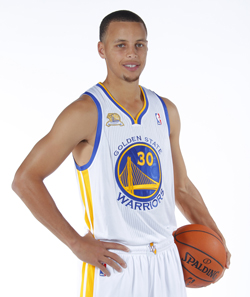 The Golden State
Warriors
will continue to wait for the return of their starting point guard. And it's not clear how long that waiting will last.
Third-year guard
Stephen Curry
hasn't played in a game since January 4th after suffering a series of sprains to his surgically-repaired ankle.
A Tuesday night game against the Cleveland
Cavaliers
had been circled as a target date,
the San Francisco Chronicle reports
, but Warriors coach Mark Jackson says that Curry's ankle did not stand up to pre-game testing.
He was able to play some 5-on-5 for the first time in 13 days, but he said his ankle felt fatigued near the end of practice. Curry couldn't tell whether his out-of-practice legs were moving slowly or his ankle wasn't strong enough.

Either way, Jackson said he doesn't think Curry will play today, and the competitive guard is more than frustrated about possibly missing a seventh consecutive game.

"You try to make a move and you just don't have that force behind it," said Curry, who initially said he wouldn't return until he was completely healthy. "I'm tired of missing games. I said I was going to wait, but I didn't say how long I was going to wait."
The paper
further reports
that a Wednesday night game against the New Jersey
Nets
"sounds unlikely."
The Warriors are 2-4 during the six games he has sat out during this most recent stretch. In his absence, Jackson has had to turn to rookie
Charles Jenkins
and new free agent addition
Nate Robinson
.
Curry has dealt with chronic ankle issues during his pro career, so it makes zero sense to put him on the court until he's 100 percent. The risk of re-injury, and thus another extended absence, is simply too high.While Jackson, a first-year coach, is likely feeling the pressure to turn things around after a slow start, his hands are tied on this one.
On the season, Curry, 23, is averaging 15.2 points, 5.6 assists and 4.2 rebounds per game.