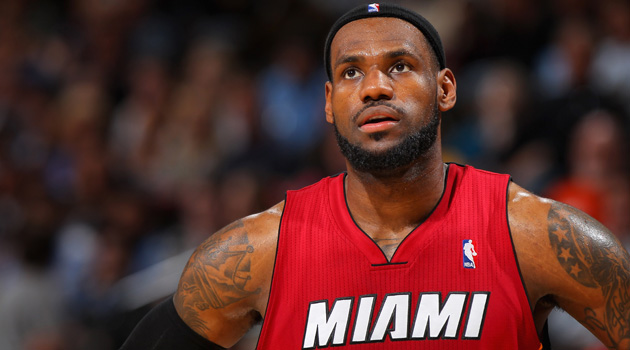 By Matt Moore
The NBA GM poll every year has a few interesting
Nuggets
. You get a feel for some of the underlying trends when it comes to players, coaches or teams. And in the case of
LeBron James
, this year's poll results are very telling.
For example,
from NBA.com
: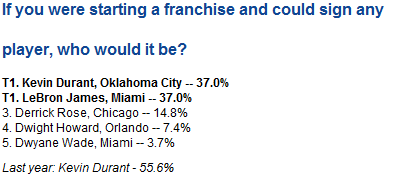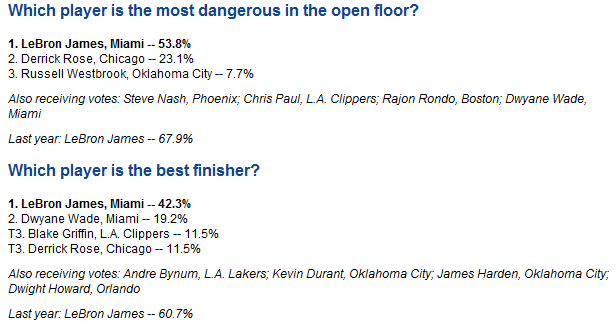 So that's a pretty sterling resume when it comes to what management thinks of LeBron James, huh? Second Most Valuable, most athletic, most dangerous in the open floor, best at his position. It's pretty clear that the GMs aren't punishing James for his decision a year and a half ago to team up with
Chris Bosh
and
Dwyane Wade
on national television. They respect him and marvel at his talents, just like so many members of the media did. When people complain about James' selection as the best player in the NBA they need to understand that if you watch this league night in an night out, there's just no way around it.
And yet.
There's this.

Not receiving votes: LeBron James, Dwyane Wade, Chris Bosh, or any member of the Miami
Heat
.
Let's be clear on that. Duncan, Garnett, Kidd, Durant, Nash, Bryant, Paul, Rose. That's a list of the best players in the league, now or in the recent (within five years) past. Only
Tyson Chandler
, who just won a title as the starting center, and
Derek Fisher
remain as non-star players.
Derrick Rose
is 23. And yet all received votes, and LeBron James, arguably the best basketball player in the NBA, did not.
That's a pretty clear indictment. It's not a surprise. James has never been known to be in the ear of teammates telling them what they need to do or motivating them. He tends to hide from the biggest moments for some inexplicable reason, or fail in them. He's known as being too playful at times and not taking things seriously enough. And he's also discussed as the ultimate complimentary player.
But not a leader.
In a lot of ways, society, pundits, and fans would rather you be a leader than be talented. There's a more direct correlation between leadership and winning than talent and winning. James wasn't gifted with leadership abilities, nor has he sought them out. He has plenty of opportunties. He's known as a kind of guidance counselor for young players, particularly
John Wall
,
Kyrie Irving
, and
Tristan Thompson
. But you rarely hear teammates talking about the advice he's given. He has his own culture, his own inuslar identity.
The effect of Wade and James playing together clearly dilutes thier influence as well. How do you lead clearly when you have to check with your partner? This is the identity of James, and it speaks to what we value in sports, as well as the continuing dichotomy of James as the most valuable basketball player alive and yet not one of the truly great players in the game. It seems we're always finding something new to tell James he doesn't do. First it was carrying a team to the playoffs. Then the Finals. Then winning the Finals. Then managing his ego. Now it's delivering in the clutch and leading. And yet none of the other things matter if those final two pieces of the puzzle are solved. And we're left with the question we've faced for half a decade.
Will James ever put it all together?