Posted by
Ben Golliver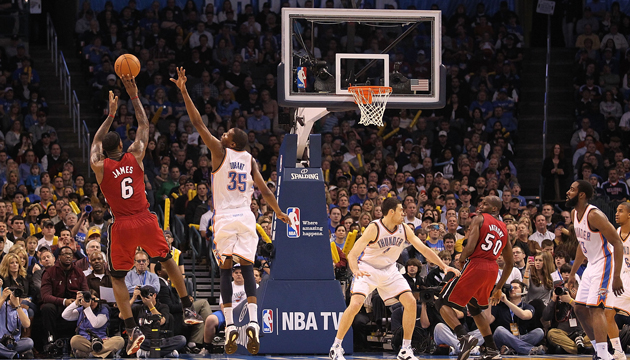 The NBA's chief basketball operations executives have weighed in: The Miami
Heat
should win the 2012 NBA Finals.
An
annual survey of the NBA's general managers by NBA.com
reveals that 74.1 percent believe the Heat will revenge their 2011 Finals loss to the Dallas
Mavericks
.
Back in November
, Miami was set by Las Vegas as the early favorite to win the title.
An overwhelming 96.3 percent voted Miami as Eastern Conference champions. Miami is currently the No. 6 seed in the East, trailing the conference-leading Chicago
Bulls
by 2.5 games. The Bulls received just 3.7 percent of the vote. Miami topped Chicago in the Eastern Conference Finals last season.
Out West, the conference-leading Oklahoma City
Thunder
are the clear favorite. 67.9 percent of voters believed the Thunder will win the Western Conference. OKC is currently 12-2 and already holding a 3-game lead in the conference. The Los Angeles
Lakers
, Portland
Trail Blazers
and San Antonio
Spurs
also received votes. The defending champion Dallas Mavericks, who started the season slowly, did not receive a single vote.
The survey's selection for Division winners tended to favor established, veteran teams. In the East, Miami, Chicago and the Boston
Celtics
, currently toiling at 4-8, were picked. In the West, Oklahoma City, the San Antonio Spurs and the Los Angeles Lakers were the picks.
Voters selected Thunder forward
Kevin Durant
over Heat forward
LeBron James
as the guess for league MVP. Durant is currently averaging 26.0 points, 6.8 rebounds, 3.4 assists, 1.0 steal, and 1.1 blocks in 35.9 minutes per game. James is averaging 29.5 points, 8.2 rebounds, 7.4 assists, 2.0 steals, and 0.7 blocks in 37.5 minutes per game. Los Angeles Lakers All-Star guard
Kobe Bryant
, who is leading the NBA with 30.8 points per game, did not receive a single vote.