Posted by
Ben Golliver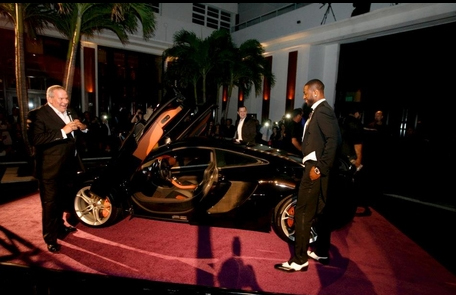 Miami
Heat
All-Star guard
Dwyane Wade
suffered a
vicious ankle sprain
last week. Bad news: it was his right ankle, and that's his accelerator foot.
TMZ.com reports
that Wade, who turned 30 on Tuesday, received a 2012 McLaren worth more than $200,000 from the owner of South Florida luxury car dealership called The Collection.
Dwyane Wade got a sick $230,000 sports car at his 30th birthday party in Miami this weekend -- but the most impressive part of the gift is how it was airlifted into the hotel pool without a scratch. The car is a brand new 2012 McLaren MP4-12C -- given to him for free by the owner of a local luxury car dealership. Wade is the brand ambassador for that particular dealership.

The guy wanted the presentation of the car to be super-fancy -- with the McLaren waiting for Wade on a platform in the middle of the hotel pool... D-Wade accepted his present in front of famous friends like Usher, Common, T.I., LeBron, and Chris Bosh.
More images
here
.
CarAndDriver.com reports
that McLaren Automotive said that less than 1,000 of these supercars would be manufactured worldwide with "between 300 and 400" coming to the United States.
As you might expect, the site
posted a breathless review
.
You spring open the MP4's dramatic insect-wing door by sweeping a hand along a flush surface tucked under the side scoop's upper edge. Leading with your right leg followed by a dab of  body English, it's an easy glide into the nicely bolstered seat. There's a huge 9000-rpm tach and a steering wheel unburdened by switchgear, with a center-pivoting shift paddle. The leather and faux suede are sewn to ­Savile Row standards.

With a 4000-rpm spread between torque and horsepower peaks and 17.4 psi of boost on tap, the MP4's 3.8-liter engine feels more like a strapping V-10 than a mini V-8. There's no hint of  turbo lag or, for that matter, any evidence that this engine is turbocharged except for an occasional waste-gate chortle during shifts. The torque curve is as flat as an electric motor's.
4,000 rpms can probably take the edge off turning 30 while sidelined with a bum wheel. Just a guess.
Image credit: Bob Metelus for TMZ.com.