Posted by Royce Young and Matt Moore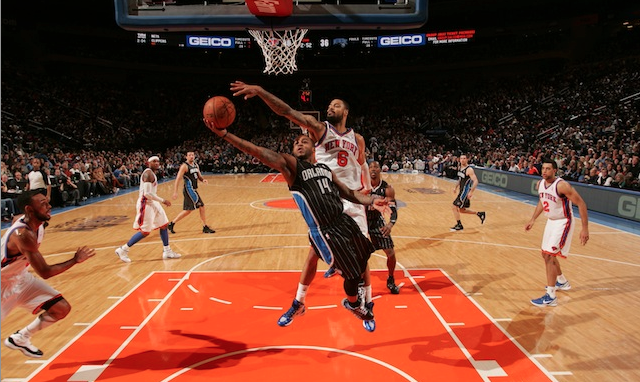 Your nightly report card gives you a big picture look at what happened each night in the NBA. Grades are granted based on team or individual performances, and are graded on a curve for each element. Leave your own grades in the comments.

Orlando might've picked up its best win of the season Monday in New York and the Magic did it behind Ryan Anderson's scoring barrage. Anderson has emerged as a legit option for the Magic and with
Dwight Howard
inside, Anderson, a finesse power forward, can afford to play on the perimeter. It's really a pretty perfect pairing, much in the way
Rashard Lewis
worked well playing alongside Howard. Anderson went for 30 against the
Knicks
and did it with seven 3-pointers. -- RY

Irving closed out the
Bobcats
with a series of dervish inside moves and layups. His handle and confidence improves every game and he's now distributing as well.
Ricky Rubio
has all the hype but right now Irving needs to at least share the lead for ROY. The
Cavaliers
keep winning, surprisingly, and it looks more and more like they have a star to build around. He's got great control over his body in mid-air and his shooting is surprisingly on target for a rookie. He took the team on his back to get the win Monday, and that's exactly what the Cavs want to see. -- MM

That's six straight for Oklahoma City, but how about Westbrook? He drilled back-to-back 3-pointers in crunchtime, scored 26 points and made plays all over the court in Boston for the Thunder. He was helped obviously by
Kevin Durant
(28 points) but the unusual suspect of
Thabo Sefolosha
stepped up with 19 points on 7-9 shooting. The
Celtics
were a desperate team Monday looking for a win to hang their hat on and OKC did what needed to be done. Impressive victory for the team now with the league's best record.

The bad: the third quarter where the Grizzlies let a 25-point lead evaporate. But other than that, which was largely fueled by a free throw disparity and
C.J. Watson
stealing the spirit of
Derrick Rose
who missed the game with turf toe, the Grizzlies were brilliant.
Rudy Gay
scored 24 points, his third 20-plus points game. The offensive flow was working and they hustled defensively. Memphis has won three straight and is back to ball hawking in the passing lanes to force turnovers. Rose's absence was of course the difference. -- MM

It's not his fault his team stinks. OK, maybe it's kind of his fault because as the de facto "star," he's supposedly to lift everyone else to a higher place. But still, against the
Rockets
Monday, he did what he could do. Wall went for 38 points, eight assists and six rebounds but didn't get much else from his fellow starters who scored a combined 30 points as the
Wizards
lost to Houston. -- RY
Zone

The Magic dropped into a zone, and much the same way the zone has jacked with the
Heat
's star-powered lineups, it clogged up the works. It makes sense if you think about it. Teams with star power that don't have competent shooters are going to struggle when the athleticism is compromised and more pressure is applied by angling the zone to the star players. Zone is seldom used in the NBA, but the playoffs could have a ton of it this year. -- MM
Sixers Distribution

Against a very good defensive team in Milwaukee, the Sixers had four players in double digits. The Sixers aren't beating teams with star power, they're beating teams with coaching, execution, and depth. It's really important to note now how good this Sixers team is because if they're playing this well in May, they're going to make a run and stun some teams. They have a great bench scorer, they have a solid all-around frontcourt, they have a do-it-all forward in Iguodala playing the best ball of his career. Fear the Sixers. -- MM
Boston Celtics

The Celtics were competitive and actually had a chance to beat one of the best, if not the best team in the league Monday, but were bitten by the unlikely barrage of 3-pointers from Thabo Sefolosha and Russell Westbrook. It has to be a tad encouraging that the Celtics were ready, played good defense and really pounded the glass. Still they lost their fifth straight and their four wins are against Washington (twice), New Jersey and Detroit. -- RY

The Bulls without Rose reverted back to a largely inefficient team, but more concerning was their lack of defense as the Grizzlies relentlessly attacked the rim. Essentially, unless
Omer Asik
was in, the rim was vulnerable. The question has to be asked for the hundreth time, if the Bulls would be better off with
Taj Gibson
starting, and now Asik is angling for the job of
Joakim Noah
. Noah was particularly bad, getting outworked and outsmarted by
Marc Gasol
and dunked on by Rudy Gay in space, while missing layups. Rose is the reason they lost, but there was a lot not to like for Chicago. -- MM

He returned to the Knicks. He scored 33 points but did it in 9-27 shooting and New York lost to the Magic. So a pretty Melo day all around. (Get it?
Melo
... You get it.) -- RY

Here's the starting five the Hornets rolled out against Portland:
Jarrett Jack
,
Marco Belinelli
,
Emeka Okafor
,
Jason Smith
and
DaJuan Summers
. Does that strike you as a competitive NBA team? Jack led the Hornets in scoring with 21 points, but my goodness does that team need
Eric Gordon
back. A lot of teams are fun to watch even when they're bad because of young players or because it's comical, but the Hornets don't really even have interesting players right now. -- RY