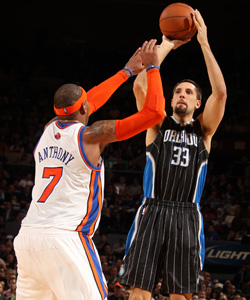 By Matt Moore
We saw the early signs in New Jersey, but so many players drift away. We saw it his first year in Orlando, but the system has produced a lot of quality scorers. But what
Ryan Anderson
has done this season in Orlando deserves significant recognition.
On Monday, Anderson dropped a career high 30 points on 13 shots along with 7 rebounds in the
Magic
's 102-93 win over the
Knicks
in Madison Square Garden. After the game, Anderson was demonstrably humble, saying essentially that he was just open. And he's right. He was. But that has value in this league.
Anderson has been knocking down perimeter shots all season thanks to the attention paid to
Dwight Howard
down low. That's the model for what the Magic want to do, better or worse. And when you have a shooter as hot as Anderson right now, it makes it extremely difficult to stop. The Knicks have a huge, tough center inside in
Tyson Chandler
to attack Dwight Howard, and the Knicks gameplanned to stop him. He scored just eight points. But when you open up opportunities for the Magic's supporting players, and they're ready to contribute instead of, say,
Vince Carter
, the Magic are still a deadly team.
There is a metric used in the NBA stat circles called True Shooting Percentage. It factors the impact of hitting threes and free throws for a better indicator of how good a shooter a player is. Anderson entered Monday 11th in True Shooting Percentage, then went out and hit 11-19 from the field, 7-13 from three, and 1-1 from the line. That efficiency means that the Magic are highly likely to get a productive possession with him on the floor. That's a big
reason why the Magic are the most efficient offense in the league
.
Anderson admitted post game he can't really create his own shot, but in a league where so many players are struggling with a tightened schedule, Anderson has made a strong statement and helped carry the Magic. The Dwight Howard circus continues, but Anderson may be the league's Most Improved Player this year and will be a central part of whatever the Magic do going forward. On Monday, he sunk the more hyped team with the famous arena and he did it efficiently. A modern style player for a more efficient age.