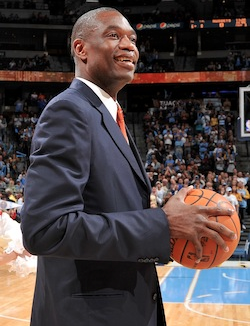 Posted by Royce Young
There is no question that
Dikembe Mutombo
has done incredible things for his native country and continent. He has sponsored humanitarian projects, spoken out about injustices and has met with State Department officials about the gruesome trade of conflict materials in his homeland, the Democratic Republic of Congo.
But according to the Houston Chronicle
, Mutombo is caught up in a strange gold scam involving his home country.
Less than two weeks later, according to a U.N. report, Mutombo was in New York on a more personal cause — trying to interest a Houston oil executive in a $10 million deal to buy 1,045 pounds of gold from the mines of eastern Congo, the heart of the conflict mineral trade.

If Mutombo had reservations about the apparent contradiction between word and deed, he did not show it. He eagerly explained how he and his family had 4 tons of Congolese gold just waiting for a buyer.

Because of an internal ban on mining and exports, imposed to try to stop the main revenue source for the mafia-like militias that controlled them, the gold could not be taken to market in usual ways. What Mutombo needed was somebody with money, connections and the ability to put a deal together.
This is a complicated sitatuon and it basically breaks down this way, according to the report:
Kase Lawal, a chairman at a Houston energy company, knew Mutombo from his days with the Houston Rockets. Lawal, a native of Nigeria, had money to spend and a private jet that could hold cargo. The gold Lawal would buy was still "dirty," meaning it was in nugget and dust form, but it didn't matter. Lawal would buy the nearly 1,000 pounds of gold in Kenya, where it was lawful to do so. Mutombo would see 30 percent of the profits.
However, when Lawal sent his plane, it was seized at gunpoint by Congolese officials. No money, no gold. And Lawal was out some $30 million.
The conflict of interest here with Mutombo is a bit disturbing. Again, two weeks after he met with officials about the DRC gold and mineral trade, he was lining up a buyer for "his" gold. Gold that was likely mined mined by forced labor and funds the purchase of weapons for militias.
What's unclear is whether or not Mutombo ended up getting paid anyway. But on the surface, it appears the whole thing was a setup, a scam with gold that didn't really exist. Or didn't exist in the sense it was described.
Though Mutombo and his family early on claimed the gold belonged to them, St. Mary actually found himself dealing with someone named Eddy Michel Malonga who claimed to be the real owner of the gold.

He also began to demand 40 percent up front. In late December, Lawal reluctantly turned over almost $4 million in cash, but only after getting a certificate of ownership and having the gold placed in a secure customs warehouse in Nairobi, the capital of Kenya. A week later, Malonga — and the gold — disappeared. The purported customs facility was a sham.
When Mutombo was reached for comment by the Chronicle he responded with "I have nothing to say."
It's really kind of difficult to summarize the whole ordeal, so I'd recommend reading the Chronicle's full story on it. Pretty eye-opening.