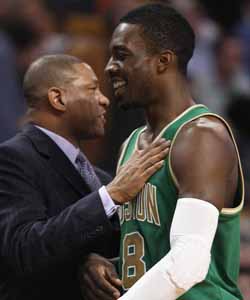 Posted by Royce Young
He's not one of the big names like
Deron Williams
or
Dwight Howard
, but Jeff Green will be a pretty intriguing free agent to watch this summer. Because of a heart condition, Green has been forced to miss the entire 2011-12 season with the
Celtics
pulling both their $9 million contract and qualifying offer.
As a result, Green is an unrestricted free agent. And assuming everything checks out for him and he's back to being healthy, teams will come calling. One likely being his hometown
Wizards
.
Via NBA.com
:
The Wizards, according to sources, have long coveted Green, who played locally at Georgetown and who would provide some desperately needed maturity and young experience next season for one of the league's most callow teams. Assuming the Wizards use their amnesty provision next summer to free themselves from the final season of Rashard Lewis's contract -- $22.69 million -- they'd be in prime position to give Green a big payday, assuming everything checks out post-operation.

And if the Nets, say, lose out in the Dwight Howard-Deron Williams sweepstakes, they'll have a lot of flexibility, too.
Green would honestly be a pretty terrific fit with the Wizards. At some point, that organization has to start cutting ties with its dysfunctional players and start bringing in players like Green who are wonderful locker room professionals that can play on the court too.
John Wall
needs guys that he can play with on the court as well as players that will help him grow off it. Green, who is still just 25, is young himself but has a maturity beyond his years. Especially considering the perspective he'll have coming off this surgery.
The question is what Green will likely get on the open market. Boston, who still wants him back, likely won't be willing to go into that $9 million range again. The Celtics want to maintain a good amount of flexibility for this summer. And it's hard to ignore the fact Green will have missed an entire season. How can you really know what he can give?
Assuming he's healthy and everything is good though, Green is worth a mid-level sized deal from someone and maybe more than that to a team like the Wizards or Nets. Those teams need a culture change. They need to move in a direction of mature youth. Because what they have going now isn't working.
The Wizards could be a perfect fit for Green. But wherever he ends up, hopefully the first thing he has is his health.