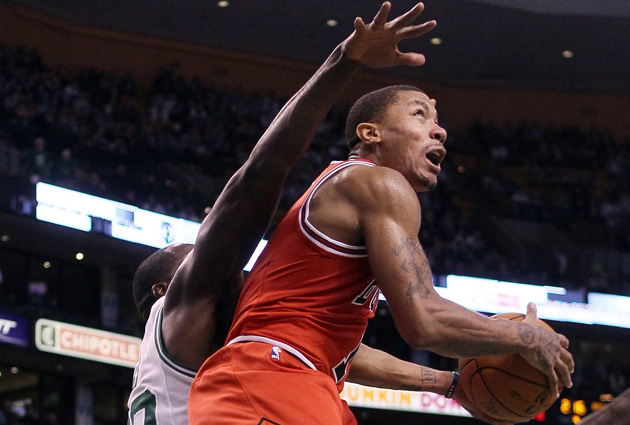 Welcome to the Baseline Awards, a weekly feature that goes over the biggest stories of the past week and hands out awards. Because awards are fun!
Eastern Conference Player of the week: Best overall performance by Eastern Conference player
Tie:
Dwight Howard
/Derrick Rose
Dwight Howard absolutely annihilated teams this week. He only played in two games. During that back-to-back set he destroyed an elite team, the Blazers, and a pretty good team, the
Warriors
. Howard missed an epic tonnage of free throws vs. Golden State... and still scored 45 points and grabbed 23 rebounds. Against Portland he only scored 13 but had 13 rebounds and four assists. Howard is showing why everyone wants to trade for him.
But
Derrick Rose
? He's back to playing at an MVP level. No, I'm sorry, that's not right. Because he won the MVP last year and he's actually playing better this season, and did so this week. Rose played four games last week, sitting out with turf toe against the
Wizards
, and averaged 24 points and 9 assists. That last digit is particularly important. Rose has become a better passer, and is helping what is largely the same
Bulls
unit become better offensively. Be afraid, NBA.
Western Conference Player of the Week: Best overall performance by Western Conference player
Kobe Bryant
Um... have YOU scored 40 points in each game this week, four times straight? I didn't think so. If I have to explain this, you've been either living in a cave or in suspended animation only to discover a strange new world. Either way, let me break it down. Kobe Bryant = dominant offensively this week. There may be a cost on the
Lakers
' offense as a whole and the competition was a little weak, but that doesn't change the fact he scored 40 freaking points in four straight contests at age 33.
Struggler of the week: Player with worst performance qualified for expectations
LeBron James
The numbers are fine. The numbers aren't everything. I rarely if ever use the phrase "choked" but James choked away a very winnable game vs. Golden State by missing free throw after free throw. Then had similar issues against the
Clippers
, struggling in the fourth quarter and overtime. And finally he was frustrated and beaten handily by the
Nuggets
.
It was probably an outlier, he'll likely rebound, at least in the regular season. But James had a huge letdown after a promising start to 2011-2012.
DOMINATOR AWARD: Most dominant performance
Paul Millsap
Millsap was an absolute beast for the
Jazz
this week, helping them to a 3-1 record while averaging 23 points and nine boards...while shooting 62 percent from the field. In three of those games, he shot better than 55 percent. Millsap's ability to hit from range, finish inside, and score in the post is making him one of the most complete power forwards in the league. The Jazz really have something going (again) in Salt Lake, and Millsap this week has been a huge part of it.
Broken Promises Award
:
Mark Jackson, Golden State Warriors
Jackson's guarantee of a playoff trip was questionable when he made it after being hired last summer and it looks even worse now, just 12 games into the season. The team's major free agent prize,
Kwame Brown
, is likely done for the year, a desperate ownership is realizing it can't make stars appear out of nowhere, and
Stephen Curry
is tragically sidelined yet again. Jackson, meanwhile, embarked on an historically stupid Hack-a-Dwight strategy en route to a home loss and then watched as his team laid an egg in Charlotte, of all places. The good news: the W's season will be over and Jackson will have plenty of time to get back to the rhyming dictionary to craft some new catchphrases. I know you wanted to make a splash; your mouth made a promise that your team can't cash.
Home Cookin' Award:
Portland Trail Blazers
Portland's hot start and contender buzz hit the brakes this week thanks to a 3-game losing streak. After an early-season win at Oklahoma City raised hopes that this new-look Blazers team might be over the road struggles of previous years, Portland lost back-to-back games in Texas to start its current 6-game road trip, bringing their road record to 1-4 through 11 games. Losing to the undefeated at home
Spurs
is no shame, but dropping one to the Houston
Rockets
in overtime can't happen if Portland is to reach its high internal expectations.
Fuzzy Math Award
Boston
Celtics
The "Big 4" is Boston wasn't supposed to be a reference to how many wins the Celtics have through the first three weeks of the season. But that's where the aging C's find themselves and it's brought on the possibility of a full-fledged identity crisis in the works. Boston is average on offense, average on defense and pathetic on the boards. Given the major cap flexibility the Celtics will have this summer, the worst case scenario is that this season ends up being a waste of time between eras. But settling for that is painful given that four Celtics were 2011 All-Stars.
The Walter White Award
Chicago Bulls and Oklahoma City
Thunder
.
It's not a coincidence that the two teams rolling along early in the season are the two squads that had virtually everything in place. With teams like the
Knicks
and
Mavericks
looking a bit lost with new pieces early on because of no training camp, the Thunder and Bulls haven't had issues because they haven't had to work on any chemistry. It's already there.
Dead Man Walking Award
Deron Williams
I don't know how Deron Williams is putting up with this stuff, but he's obviously playing through gritted teeth. Kudos to him, but it has to be painful to basically be flushing a year and a half of your career down the toilet. The injury to
Brook Lopez
was unfortunate, but let's be honest: The
Nets
weren't going to be good regardless. If it all works out and Dwight Howard finds his way there, I'm sure he'll look back on these days as a good character builder, but if Howard goes elsewhere and Williams does as well, it'll just be wasted time.
The "Really, guys? Really?!" Award: Worst performance that isn't just bad, but inexcusable
Washington Wizards
You lost to the Bulls without Derrick Rose? Really? You let
John Lucas
go off on you,
John Wall
? Really? It's like every time we think the Wizards have hit the very bottom, they show us they can go just a little bit lower.
The "Begin Assembly" Award: Team starting to get it together
Memphis Grizzlies
A tough loss to the Lakers seemed to spark this team. They needed a boost and since that game in which they competed to the end,
Rudy Gay
has started to produce at the level he has to.
Mike Conley
is playing well.
Marc Gasol
is beasting.
O.J. Mayo
has his shot going. The Grizzlies are moving away from the debacle that was their first game against Chicago.
The "Tom Brady Is Better Than You" Award for Offensive Failure
The Sacramento
Kings
scored 42 points on Saturday through the third quarter. The Patriots scored 42 points againt the Broncos on Saturday. The Kings were outscored by an NFL team. I don't know who that's sadder for, the Kings or Tebow and the Broncos.
Awkward Water Cooler Conversation Award for Coaching Struggle:
Mark Jackson
Jackon's own players asked him not to go hack-a-Dwight vs. the
Magic
, feeling they could defend Howard. It would be one thing if it had worked, but Howard dominated them even with the missed free throws and it completely detonated the Warriors' offensive flow. Jackon's been pretty good overall this season, but that was a pretty damaging series of events.
Blog of the Week:
The Two Man Game
With the Mavericks starting to put it together, their analysis is relevant again, and TMG is the best Mavs blog out there. Thoughtful analysis and discussion on the bigger picture, which is what the Mavericks are all about this season.
Awards Watch:MVP Five to Consider (no particular order):
Derrick Rose
Kobe Bryant
LeBron James
Dwight Howard
Kevin Durant
ROY Five to Consider:
Kyrie Irving
Ricky Rubio
MarShon Brooks
Kawhi Leonard
Iman Shumpert
6th Man of the Year Five to Consider:
James Harden
Al Harrington
Lou Williams
Jamal Crawford
Ricky Rubio