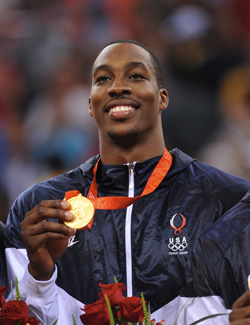 Posted by Royce Young
It might not be the Dream Team
as LeBron thinks it is
, but the 2012 United States Olympic squad is going to be one very stacked roster.
It was announced Monday the 20 finalists for Team USA's London roster with most of the names having either a gold medal from the 2008 Olympics or 2010 World Championships. The only two without any national team experience are
LaMarcus Aldridge
and
Blake Griffin
.
Initially, there were going to be just 18 finalists, but the roster was expanded to 20 to make room for the surplus of talent coach Mike Krzyzewski and chairman Jerry Colangelo will pick from. The final roster will have 12 players.
The finalists are
Carmelo Anthony
,
Kobe Bryant
,
Kevin Durant
,
Dwight Howard
,
LeBron James
,
Derrick Rose
,
Dwyane Wade
,
Chris Paul
, Blake Griffin, LaMarcus Aldridge,
Chris Bosh
,
Chauncey Billups
,
Rudy Gay
,
Tyson Chandler
,
Andre Iguodala
,
Kevin Love
,
Lamar Odom
,
Eric Gordon
,
Russell Westbrook
and
Deron Williams
.
Much like the 2010 World Championship team, the roster is a tad light on big men as
Andrew Bynum
wasn't included because he didn't want to participate. You'd have to think Coach K would take both Chandler and Howard.
Kobe, LeBron, Melo, Durant, Rose, Paul and Wade are also locks. So that leaves three open spots. How do you possibly narrow that group of Deron Williams, Westbrook, Griffin, Gay, Love, Aldridge and Bosh down to three? I think you can toss out Odom and Billups and probably Gordon, just because the roster is stacked with 2-guards. Iguodala's defense would be wonderful to have and as he showed in Turkey, he's a terrific role player when surrounded with talent. But LeBron can handle everything Iggy would do, and more.
Most rosters have three point guards, so either Westbrook or Williams will likely make the team. So assuming one of those make it, that leaves two spots, most likely both for power forwards. So it's a matter of choosing between Aldridge, Love, Griffin and Bosh. Good luck with that.