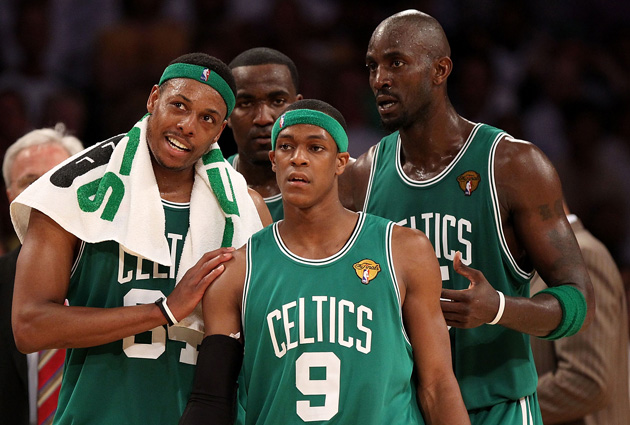 By Matt Moore
The
Kendrick Perkins
trade is winding up like that break-up that people never recover from for both the
Celtics
and Perkins. This is like "The Notebook" at this point, and Ryan Gosling is Perkins. Enjoy that image. The truth is, both the Celtics and Perkins continue to seem hurt by how the entire thing went down last February when Danny Ainge and Doc Rivers decided that Perkins' price tag in free agency would have been too high and elected to move him for Jeff Green. The move broke up a team that famously had never lost a playoff series with the starting lineup of
Rajon Rondo
,
Ray Allen
,
Paul Pierce
,
Kevin Garnett
and Perkins healthy and active.
And from a feature Sports Illustrated did with Perkins on his return to Beantown Monday, you can tell that the whole experience still sticks with Perkins, despite the fact that he played in the Western Conference Playoffs with the
Thunder
last year.
"I'm kind of nervous," Perkins said. "I don't know what to expect. It's not like I have been around the league. I came there as an 18-year-old out of high school and was a Celtic for eight years. We went through the good times, the bad times, and the city really embraced me. I got close to a lot of people in that city and it was really hard to leave.

"Going back for the first time, I don't know what to expect. My approach is I want to win the game, but at the same time it is kind of hard with so many friends on the other side. Can I really be Perk out there? Can I really play my style? [Kevin Garnett] is my mentor. Ray [Allen] and Paul [Pierce] are my friends. Doc, we have a father-son relationship. [Rajon] Rondo, we talk every day. It's going to be hard."
via
Thunder center Kendrick Perkins nervously awaits return to Boston - Chris Mannix - SI.com
.
It's got to be hard. Leaving people you care about is always hard.
But... Perkins is with the Thunder now. He's got a legitimate shot at a championship. And if that happens, it should be just as special as it would have been with the Celtics (not as special as the first one he won, nothing's as special as the first). Perkins needs to let Boston go. He's likely going to play for more teams in his career and he may never get back to Boston. It was special, something to remember, to treasure. His relationship with those guys goes beyond basketball and in the offseason he can hang out with them as much as he wants.
But Monday, it's time to block all that out and go hard. He has a professional obligation to the Thunder. His teammates are counting on him. There's a point where he just has to put his personal feelings aside and go compete. Kevin Garnett went after the
Timberwolves
in his first trip back as hard as you'll ever see him, popping his jersey and jawing at the same teammates who he played alongside for years. That's the reality of professional sports, as hard as that is.
The Celtics' run with Perkins is very much over. But the Thunder believe in him. It's time he gave them the same committment mentally... and emotionally.