Posted by Royce Young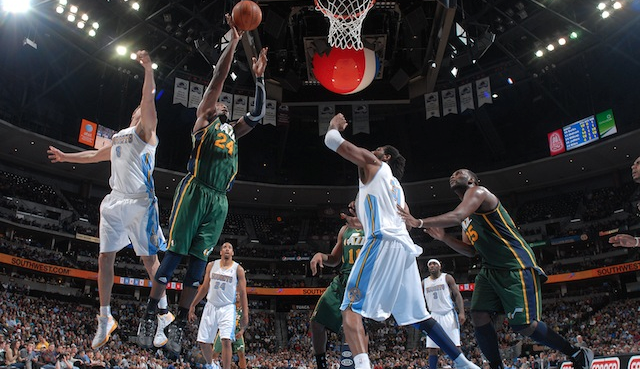 Your nightly report card gives you a big picture look at what happened each night in the NBA. Grades are granted based on team or individual performances, and are graded on a curve for each element. Leave your own grades in the comments.


Ever so quietly the Utah Jazz have climbed to second in the rough Northwest Division and they haven't done it by beating up on average teams anymore. Sunday, the Jazz topped a rested
Nuggets
squad on the road and did it by simply outplaying Denver in the second half. The Jazz aren't constructed with big names or go-to players, but with guys like
Paul Millsap
,
Al Jefferson
and the steady rise of
Gordon Hayward
, Utah isn't a team that's just going to be pushed over. With spots open at the back end of the West, it's time to start taking the Jazz seriously.

It was pretty obvious that Monroe had a serious amount of talent when the
Pistons
drafted him out of Georgetown. But the Pistons might have found a legit building block player. Detroit lost at home to the
Warriors
and are mostly terrible, but Monroe continues to be a bright spot. With 25 points and eight boards Sunday, Monroe becoming one of the East's best bigs.

Got to give it up to the Polish Hammer for 24 points and 15 boards in a losing effort. He's been a little bit of a bright spot for the up-and-down
Suns
so far this season and while Phoenix isn't going anywhere and Gortat isn't going to be All-Star material any time soon, to have that kind of line against a guy like
Tim Duncan
is a nice achievement.

Sometimes I don't really get Gallo. He's clearly one of the Nuggets' top offensive weapons and yet he sometimes just appears totally content to become background noise in their offense. With his shooting ability and the way he can create matchup issues, he should not be just attempting six shots in a game. The 12 free throws were good, but Gallinari has to show a more consistent amount of assertiveness.
Detroit Pistons

They just aren't good. The Warriors walked in and picked up their first road win of the year at The Palace and the Pistons obviously were without many answers. That roster is such a complete mess of veteran players mixed with youth that I don't know what to make of it. It's so caught between that it's torturing. Just blow it apart, let the kids play and forget about it. You're losing anyway.