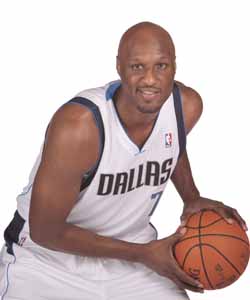 Posted by Royce Young
Lamar Odom
hasn't really been producing for the
Mavericks
lately and people are looking for reasons why. The reigning Sixth Man of the Year hasn't looked like himself since he was dealt from the
Lakers
to Dallas.
But maybe it has more to do with things off the court than on.
Because as ESPN Dallas notes
, Odom was actually pretty close to stepping away from basketball for a while because of a tough summer.
Left reeling by the July murder of his 24-year-old cousin and a fatal car accident days later that killed a teen pedestrian after the car he was riding in as a passenger collided with a motorcycle, Odom told ESPN.com that he had to be convinced by wife Khloe Kardashian to scrap his plans for a hiatus.

"Real close," Odom said when asked Saturday how close he came to asking the Lakers for a season-long sabbatical.

"My wife talked me out of it.

"Cause I was asking myself: 'Was I mentally prepared to play? If I didn't play well, was I mentally prepared to help the team?' I had thought, 'Maybe I need a year.' Because of the lockout, I thought, 'Maybe somebody's sending me a sign that I needed this time off.'

"(But) when I told some of my friends and my family that I was thinking about steppin' back for a minute, I think the reaction from the closest people to me kind of gave me the energy to get back at it."
So often we all criticize and critique a player's performance on the court without entirely considering the circumstances. This is real life. People have things going on, outside influences making them feel one way or the way. Yeah, they're professionals and they get paid a lot to play a game for us to cheer for, but sometimes things happen that make it difficult to care.
For Odom, a challenging summer just piled up on top of a lot of things he's been fighting through over the years.
But Odom, dismissing the notion of a trade hangover, said Saturday that the events of July made him realize "how much I wasn't over some of the things that I went through (in life)," most notably the death of 6-month-old son Jayden in 2006 from SIDS (Sudden Infant Death Syndrome).

"I thought it was good time for me to take a step back," Odom said of his sabbatical idea. Asked if he imagined it as just a one-season break, Odom added: "I don't know. 'Cause who knows where time away is gonna take you? You never know."

Odom, though, has expressed confidence in recent days that his sharpness will gradually start to return.
Odom has to play better for Dallas if the Mavericks are going to return anywhere near their championship level. He's averaging career-lows almost across the board and has looked disinterested and unmotivated at times. He's a wildly gifted player and while there are some things he has to overcome like new teammates, a new city and a new situation, it's the things like the challenges of the summer that he really has to get past.
It's not a given that the Mavs will keep Odom, even if he turns it around. The Mavs want 2012 cap room for a run at
Dwight Howard
and/or
Deron Williams
and Odom can have his 2012-13 $8.2 million deal bought out for $2.4 million by June 29. But that's not of his concern right now. It's about playing well and getting back to being the player he was and still is.