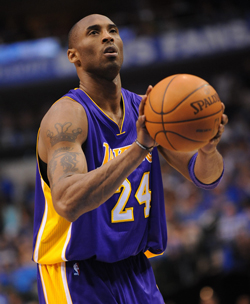 Posted by Royce Young
Kobe Bryant
has never been shy. Not with the ball in his hands and not with his words. He tells it like it is, says what he means and is often a bit braggadocios with it, which obviously, he has reason to be.
Following the
Lakers
loss to the
Clippers
Saturday, Kobe paid
Chris Paul
, and
Derrick Rose
, about as high a compliment there is from the Black Mamba.
"He's a dog,"
Kobe told reporters
. "He's going to fight to win, and not too many teams can deal with him.
"Chris Paul is really the only other guy in the league, other than Derrick Rose, who has also that competitive edge," he continued.
Notice the names missing from Kobe's list there. No
LeBron James
. No
Dwyane Wade
. No
Kevin Durant
. No
Dirk Nowitzki
. No
Kevin Garnett
. Nope, on Kobe's personal power rankings of players that possess the same competitive edge as him, it goes Kobe and then CP3 and Rose in some order.
That's just Kobe talking, which he likes to do. It's not a slight to the other players but more just something that shows the respect Kobe has for Rose and Paul. Still, it seems like quite an oversight to leave out players like Wade, Durant and Dirk.
And really, what exactly is that "competitive edge" that Kobe speaks of? What tells him that CP3 and Rose have it? What makes him think that those guys are on another level when it comes to wanting to win? It's just Kobe's opinion and he's more than entitled to that, but still, it's quite a thing to only put two players in your category in terms of competitiveness. Kobe wants to be Michael Jordan, who had a legendary amount of it. And only a couple others are in that territory, evidently.