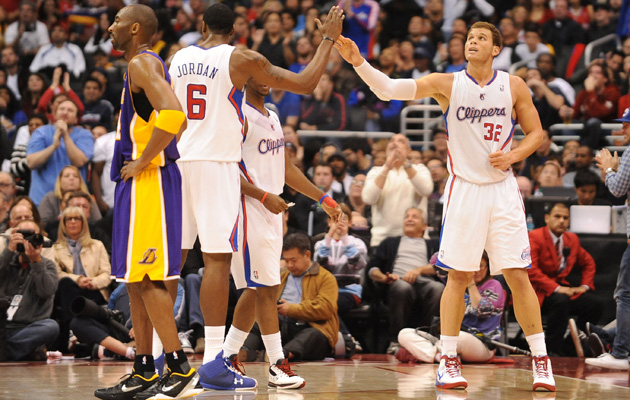 Clippers
102
Lakers
94:
Recap
|
GameTracker
It was impossible watching the Clippers' win over the Lakers Saturday night at Staples who the best player on the floor was.
Kobe Bryant
dazzled. He hit impossible shot after imposible shot, including a fading three-pointer with a defender taking up 85 percent of his vision and a turnaround mid-range jumper with similar contest. He finished with 42 points on a decently efficienty 14 of 28 shooting, and only had two turnovers.
And yet
Chris Paul
was the best player on the floor Saturday night, even with him having left before the game was over thanks to a strained hamstring late in the fourth quarter after essentially icing the game with another jumper. He finished with 31 points, 6 assists, and one turnover. But it wasn't the assists or turnovers or efficiency that made Paul the best Saturday night, nor was it the win he walked out with. It was his ability to work within the flow of an offense, to keep his teammates involved while also taking advantage of scoring opportunities with his array of skills. Paul hit some tough shots just as Bryant did, but the timing, causation, and execution were completely different.
Bryant has been on a ridicuous scoring streak, hitting the 40 mark four times in a row. The easy answer is that the Black Mamba is doing enough, he simply isn't getting help. But the only real differences between this team and last year's title contender is the absence of
Lamar Odom
and
Shannon Brown
. But the subtle differences have a huge impact, and the same problem that has bugged L.A. for years is once again popping up.
When the Lakers' offense stalls out to any degree, that's when Bryant's hero mode kicks in. And right now he's John McClaine. He's launching cars up into the air at helicopters and bringing down hover jets with trucks while taking out hordes of terrorists. But the problem is that in doing these amazing feats, he essentially removes any possibility of the Lakers' whole becoming greater than the sum of their parts. There is no flow, there is no rhythm. There is simply waiting for Bryant to score in order to try and rebound the miss or get back on defense if he hits. The result means that the Lakers' weak parts look weaker while Bryant looks stronger in comparison.
This isn't entirely about Bryant. This is about
Andrew Bynum
and
Pau Gasol
's assertiveness, and the shot making of other players. But those elements have to be allowed to thrive and they can't with Bryant testing the limits of what is possible just because he thinks it's hot. And it's not about how many field goals Bryant takes. He can shoot 50 times, if the shot is a result of the Lakers' offense functioning at the level it can and needs to. Instead, however, Bryant is taking perimeter shots, pull-up, contested, with 18 seconds or more on the clock. He's throwing up baseline runner J's over double teams. And he's hitting! But everyone knows that isn't sustainable. Bryant coul be scoring 40 points a night on 15 shots plus fouls, that's how good he is. But instead he operates on this plane.
But maybe the bigger issue is the lack of a real playmaker, like Paul, on the Lakers. For years, that role has been filled by the system. The triangle under Phil Jackson naturally gave the stars on the Lakers the chance to distribute, create, and produce. Now under Mike Brown, the Lakers are struggling for an offensive identity.
The Clippers are the opposite at this point. The may be flawed conceptually, but they are making it work with the pieces they have. The Lakers elected to challenge Paul to score Saturday night, taking away his weapons. He responded by showing them what an efficient shooter he is and burning down their
Nets
with an array of mid-range jumpers and leaners. The Lakers tried everything, but when they threw doubles and traps at Paul, his teammates had already been involved and were ready to produce.
Chauncey Billups
with 19,
Caron Butler
with 13 and even
Randy Foye
(who was not good overall) with 13. The Clippers have a complete team top to bottom, and that's a huge reason for their wins over Portland, Miami, and the Lakers. They may not be as good, but they are a more complete team.
The Lakers were hurt by rebounds. They were hurt by inexperience. They were hurt by a slow start for Bryant. And they were definitely hurt by the brutal nature of their schedule. But if they want to get back to being a title contender, they have to stop with the sideshow stuff. Watching Kobe Bryant do his damage is amazingly fun to watch, but it's no longer 2006. The only way the Lakers are going forward is if they do it together. If they want a blueprint, all they have to do is take a good long look at little brother.