Posted by
Ben Golliver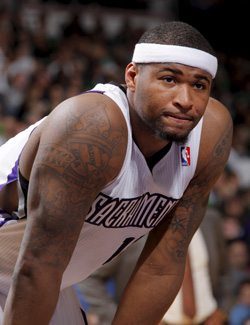 Much-maligned Sacramento
Kings
big man
DeMarcus Cousins
reportedly exchanged words with a Dallas-area cameraman following a 99-60 loss to the
Mavericks
on Saturday night.
Cousins, 21, reportedly took exception to having a camera pointed at him while he was dressing after the game.
The
Sacramento Bee
reports the details.
Cousins was getting dressed and there was a cameraman standing in front of him and Cousins asked could he not point the camera at him while he changed. The cameraman said the camera was off, and Cousins said he still didn't want camera on him. Cameraman's reply: "whatever."

Cousins basically said, "I don't care, keep the camera off me." As cameraman leaves he makes a remark about making sure the camera was off next time he was in there. Cousins asks, "What did he say?" and stands up. Isaiah Thomas grabbed Cousins by his sweatshirt to say, "Calm down."

At no point did Cousins try to go after the cameraman. Cousins then gathered his belongings and left the locker room.
The Ft. Worth Star-Telegram reported
that Cousins "had to be restrained from going after a Dallas media cameraman."
A 2010 lottery pick, Cousins has been under the microscope during his two seasons in Sacramento, especially recently. Earlier this month, he was at the center of major controversy in Sacramento when former Kings coach Paul Westphal was
fired less than a week
after he suspended Cousins for
allegedly demanding a trade
.
Back in February 2011
, Cousins was suspended by the team for reportedly getting into a fight with teammate
Donte Greene
after a game.
Cousins' reputation obviously does him no favors here. Unless it's a star player or someone with a track record of bad behavior, this incident likely gets quickly forgotten and probably goes unreported. Couins may very well leave this situation thinking he did nothing wrong by requesting his privacy and that the entire thing is being overblown simply by being talked about at all. But that's one of the burdens of being blessed with star-type talent. All eyes are on you, even after a difficult loss and even when you would rather not talk to anyone or have a camera anywhere near you.
NBA veterans realize that these ticky-tack situations are never worth the trouble. The risk/reward of sniping at someone in the social media-driven, all-access 21st century environment of the NBA is totally out of balance. It's all downside, and, eventually, one would think Cousins will reach that conclusion. The only question is when.
Cousins had 12 points and 10 rebounds in 29 minutes during the loss to the Mavericks.