Posted by Royce Young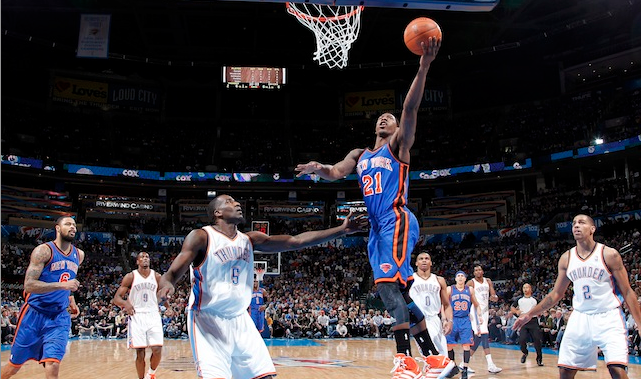 OKLAHOMA CITY -- I guess
Carmelo Anthony
is really, really important to the
Knicks
. Either that, or they have some pretty serious issues to figure out before they actually start thinking of themselves as an Eastern contender.
Yeah, it's definitely the latter.
We already kind of knew that but after New York signed
Tyson Chandler
, then started playing a little defense and then beat the
76ers
, it was easy to start wondering. But all that was brought back to Earth after the
Thunder
dismantled the Knicks in Oklahoma City Saturday night 104-92.
Here's where the Knicks faltered: Yeah, their defense was bad and I think an empty chair could've done a better job on
Kevin Durant
than
Bill Walker
, but the Knicks issues lie within their offense. They're still playing fast (fifth in the league in pace), but they are playing far from efficient. Scoring almost appears to be a chore at times, Melo or no Melo. All a player the caliber of Anthony does is provides a one-on-one bailout option when the ball stops moving and everyone starts standing.
Why is there a problem though? With
Amar'e Stoudemire
, Carmelo and Tyson Chandler, there shouldn't be issues, right? While those three form a nice trio, there simply isn't a good option to steer the boat. Mike D'Antoni has been using rookie
Iman Shumpert
at point guard recently, but changed that plan Saturday by starting
Mike Bibby
. He says it's not a permanent move, but was more of a matchup thing. But he didn't deny that he's looking for answers.
"You can always search a little bit and we are searching," he said. "When you lose two, you always re-evaluate everything. I'm not ready to say yea or nay [on starting Bibby for good]. It's definitely not Iman's fault or anything like that. It's just trying to find the right combos."
Reality is, neither Shumpert nor
Toney Douglas
is the answer. They're both nice players, but pretending either is a potential answer at point is like thinking you have a chance with that Hooters waitress that winked at you. Pipe dream, you guys, pipe dream. And as the
Heat
learned the hard way last season, Bibby isn't either. The hope is that when
Baron Davis
is healthy that he can take over that job, but that's not at all a guarantee. I mean, that's where things are -- the Knicks are hoping that Baron Davis is the answer at point guard. Think about that for a second.
It's really an interesting situation for New York, because it's one that the Heat are constantly trying to overcome themselves. Except the Knicks are like Miami Lite, a less talented version with less depth and not the same starpower. In truth, the Knicks would kill for either
Norris Cole
or
Mario Chalmers
at this point. And if they had one, they might kill a little more too. Or at least get killed less.
(Sidebar: Let me go ahead and throw out what everyone else has probably two thousand times this season:
Steve Nash
just makes too much sense for the Knicks. I have no idea what they possibly have that could interest the
Suns
, but with Phoenix not really going anywhere and Nash's contract and career ending soon, you have to give it a real shot.
Landry Fields
, Iman Shumpert and whatever picks the Knicks have left -- maybe?)
It is still early. The Knicks still have a whole lot of games left and remember, the Heat were 9-8 at one point last season. But I think when we watched that team, we could all see that eventually it would click. I have a hard time seeing that with this Knicks team.
"It's just going to take a while," D'Antoni said. "Almost always we have at least one or two rookies on the floor and without a training camp, excuse excuse, and I don't want to do that, we're just struggling right now a little bit. We just got to work through it."
Said Tyson Chandler: "We need practices under our belt. We need to get better chemistry on both ends of the floor."
That's an easy thing to say.
We'll work through it. We're getting better. Give us time.
At some point, there have to be results. D'Antoni has been heralded as an offensive guru, but his offense isn't working. And I don't think the blood is on his hands. He just doesn't have the personell. I mean, a team with two top 10 offensive players like Melo and Stoudemire shouldn't rank in the bottom third of the league in offensive efficiency. There has to be a reason for it.
The Knicks want to pretend that they have a new look and a new commitment to defense. And while they entered Saturday's game in the top 10 in points per 100 possessions, they aren't anywhere in the same universe as a team like the
Bulls
or Heat that can hang their hat on it. The Thunder proved that with their 70-point first half. It's the offense, stupid. It's a problem and unless the Knicks start finding answers, it's not looking like they're going anywhere they didn't go last year.