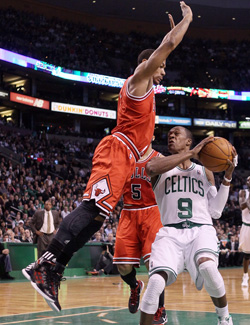 By Matt Moore
The Boston
Celtics
lost to the Chicago
Bulls
88-79 Friday night
. Just a nine point loss at home. At one point in the fourth, it was just a one-point lead. There is every reason to feel that the Celtics had a routine regular season loss to what may be the best team in the league at the moment.
And all of that fails to recognize what actually occurred, which is the Chicago Bulls dominated and toyed with the Celtics on their own floor, another game in which the Celtics revealed a very ugly truth. This team can't run with the great teams in this league this season, because this team can't run.
The Celtics are going to go on a winning streak sometime this season. They're going to put together a run of games where they look like the vintage Celtics of old. They'll have to, because their pride won't allow them to continue at this pace. The problem is that in order to get themselves in that position, they'll have to torch the afterburners they usualy save for the playoff, just to make the postseason.
Friday night wasn't about just missing shots. It wasn't about just missing rotations. And it wasn't just about having an off night.
The Celtics struggled in essentially every area. They gave up open looks on the outside. They couldn't hang with Chicago's fast break. The help defense that has effectively defended
Dwyane Wade
,
LeBron James
, and
Kobe Bryant
in the past was unable to get to
Derrick Rose
in time as he sliced his way through. You cannot belabor this point. The Celtics' model was built on a help defense that eliminated perimeter penetration. You don't get in. And if you do, you don't get the bucket, you get fouled or blocked or stripped. Rose, on the other hand, slipped his way through. When the Celtics did get a third defender in front to stop him, he zipped a pass they never saw coming for an easy score.
Paul Pierce
was tortured by
Joakim Noah
all night.
Kevin Garnett
struggled with both Noah and Brewer. It was the bench unit that helped spark the comeback.
Ray Allen
shot well, but even he wound up with an off-balance drifting three under Chicago's pressure.
The Celtics aren't as good of a team as Chicago right now. But the gap reveals that while the
Mavericks
(7-2 in their last nine) have corrected matters, and the
Lakers
have discovered their new identity, the Celtics are stuck in a sequel with the same cast of characters. They'll still get the same standard level of success because of the star power of the cast. But the days of box-office smashes are over.
They struggle with rebounding. They struggle with turnovers. They struggle with shooting against quality defenders. And most of all they struggle with beating good teams. They fell to 0-5 against teams with winning records Friday night. Maybe they are just waiting longer than usual to turn it on. Maybe they will get into condition, put on the jets, and roar into the playoffs with homecourt advantage for the fourth straight season.
The Celtics' regular season struggles have been about effort. They've openly admitted in years past that they were simply bored. They had issues from time to time with execution, where the team simply wasn't able to function at a high level. But they've always had the ability, the talent, the capability to go out and dominate the best teams in the NBA.
But the problems so far this season with Boston aren't rooted in effort, execution, or talent. They're rooted in ability.
And if that's gone?
They're gone.